Oppo has claimed to have developed a new smartphone charging technology with which phones can be charged in just 15 minutes.
The new 'Super VOOC Flash Charge' technologies is the improved version of VOOC Flash Charge that was introduced by OPPO in 2014.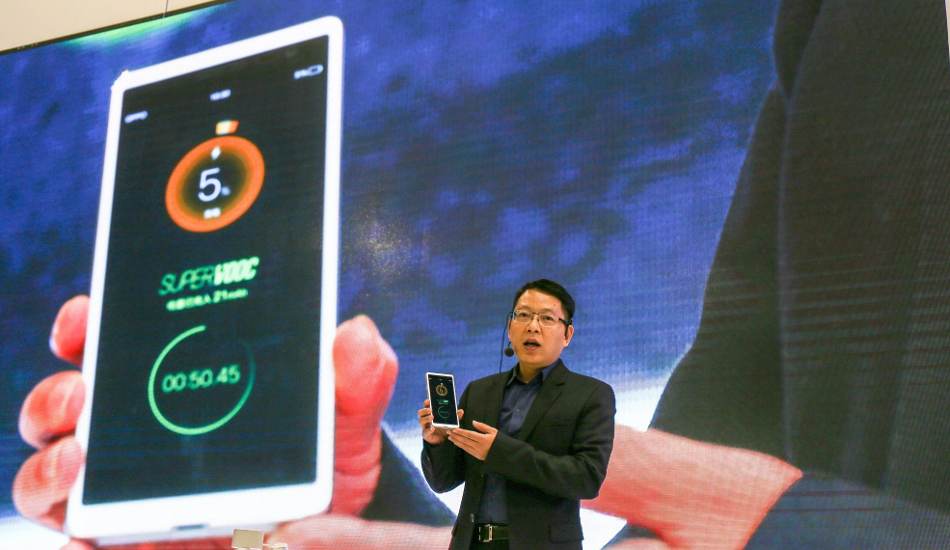 The original VOOC Flash Charge, as per the company, gives users 2 hours of talk after just 5 minutes of charging. Super VOOC, Oppo said, offers full 10 hours of talk time with only five minutes of charging, and filling a 2500 mAh battery in only 15 minutes.
"Super VOOC Flash Charge uses a 5V low-voltage pulse-charge algorithm, ensuring a low-temperature charge that's safe for the battery and dynamically regulating the current to charge the phone in the shortest time possible. The all-new algorithm pairs with a customizedsuper battery, as well as a new adapter, cable and connector made using premium, military-grade materials.Super VOOC Flash Charge supports Micro USB or type-C interfaces, in line with the global standard," Oppo said in a press statement.
Oppo further added, "Super VOOC Flash Charge's safe, low-temperature charging algorithm makes it perfect for using the phone while it's charging, such as watching an HD video, or playing a game, a functionality which other quick charge technologies don't support."
Oppo, at the ongoing Mobile World Congress (MWC), also announced a new smartphone camera image stabilization technology.
Optical image stabilization technologies come in two types, lens-based and sensor-based, but due to the size limitations of smartphones, all previous solutions across the industry were lens-based.
Oppo has now introduced SmartSensor which is claimed to be the first-ever sensor-based solution for smartphones, as well as the smallest optical image stabilizer of any kind in the world.
Existing lens-based stablizers can only correct for vibrations on two axes of motions, the pitch axis and yaw axis, even though the most common type of unwanted shaking during photography actually takes place on the roll axis. SmartSensor solves this problem, allowing for image stabilization on three axes, pitch, yaw and the all-important roll. Making split-second adjustments with its comb-shaped monocrystalline silicon MEMS, SmartSensor achieves full three-axis image stabilization in a mere 15 milliseconds, said Oppo.
The company further added, "At the same time, SmartSensor uses a voltage-driven sensor, reducing power consumption to as low as 10 milliwatts, 50 times less than the power consumption of lens-based solutions."
Lens-based systems, with their increased power consumption, can quickly heat up the module, affecting image quality, especially during extended photo shoots. But the low power consumption of the fine-tuned MEMS keeps temperatures low and preserves image quality even in long shooting sessions.
Meanwhile, whereas lens-based image stabilizers generally have a precion of between 3 and 5 μm, SmartSensor remains precise to a vibration of just 0.3μm. The size of a pixel is usually larger than 1 μm, meaning that SmartSensor is the world's first pixel-level image stabilize.
As per Oppo, its SmartSensor is able to capture more detail. In low lighting, SmartSensor claims to capture clear and bright images by allowing a longer exposure time.