The next generation Nexus 7 tablet, reportedly being made by Google and Asus, will feature Qualcomm Snapdragon mobile processor and also Long Term Evolution support, revealed a Bluetooth SIG filing.
As per an earlier FCC filing, the Nexus 7 tablet will be offered in HSPA+ supporting version with LED backlight display and quad-core Qualcomm Snapdragon S4 Pro mobile processor. However, now the Bluetooth SIG filing of the new Nexus 7 tablet lists it with quad-core Qualcomm Snapdragon 600 mobile processor. Quite possible that Google-Asus Nexus 7 will be offered in different models. Also it is quite possible that the one of them is the Asus MeMo Pad model and another is the Nexus 7 with LTE.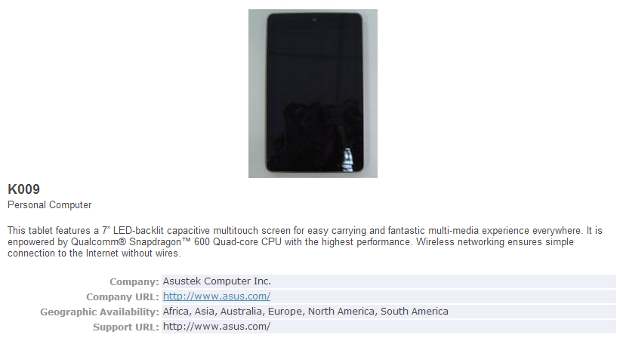 For instance, the Qualcomm Snapdragon 600 based Nexus 7 with LTE support might be offered in select regions. As per the Bluetooth SIG listings, those regions include Africa, Asia, Australia, Europe, North America and South America.
Apart from the new Qualcomm mobile chipset, another change would be the rear camera in the new Nexus 7. Also, the new Nexus 7 tablet will arrive with Android 4.3 Jelly Bean MR2 running on it. The tablet will be powered by 4000 mAh battery.
As The Mobile Indian had reported last week, the new Nexus 7 would cost more than the first generation Nexus 7 tablet. As of now, there are no details on when is the new Nexus 7 tablet expected.