Netflix has announced a new feature through which users will now be able to download their favourite television shows and movies to an extended SD card. The compatible mobile devices will now have the option to select between the internal or external storage to save downloaded content.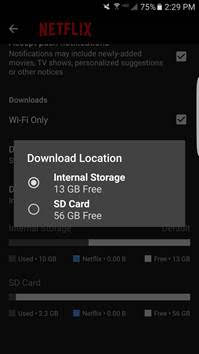 In order to save the content on the external SD card, one need to open Netflix app and tap the Menu button. Scroll down to select App Settings and click on the Download title. Tap Download Location and select where you would like to store your downloads. This will change the storage location of future downloads. Titles you have already downloaded will remain where they are.
To recall, the company added the new offline option back in December last year, where one could download and save his/her favourite videos to watch it without an active internet connection. The feature is available on both iOS and Android devices running iOS 8.0 or later and Android 4.4.2 or later.
In a country like India, where the Internet connectivity is a major issue, the offline download feature has come as a blessing in disguise for people who want to enjoy streaming services. Google has also introduced this feature on YouTube where users could take the videos offline and watch it afterwards without any internet connection. Hotstar also comes with an option to watch videos offline as well.