Sistema Shyam TeleServices Limited (SSTL) that nationally operates its telecom services under the MTS brand in association with 4moles.com has developed the fastest, easiest and an effective Live Scoring application for Golf. This application has been exclusively developed for the upcoming Panasonic Open India 2012 – Asian Tour and is available on MTS Pulse and MTag 3.1 smartphones.
We reviewed the app which is a very simple app which shows the score of top 10 players as default and can be expanded to see the details of other players also.
Traditionally scoring was done manually wherein volunteers carry walkie-talkies and relay the information to a central point, where it is fed into a console. This has a time lag of about 10-15 minutes between the scores per hole of each player.
To facilitate the live feed and real time scores, this application has been developed to cut down drastically on the time lag. This will achieved by deploying volunteers to the 18 greens, and have them enter scores of the players as they pass by into a MTS smartphone which is directly linked to the main console.
The application also has the features to be used for LIVE SCORING at corporate events and also for personal Scoring by a golfer.
Updating is also which can be done in simple three step process. The player, or his associate clicks on the players name, which opens up the details, which once clicked again can be updated. Details like hole, par, and length can be updated.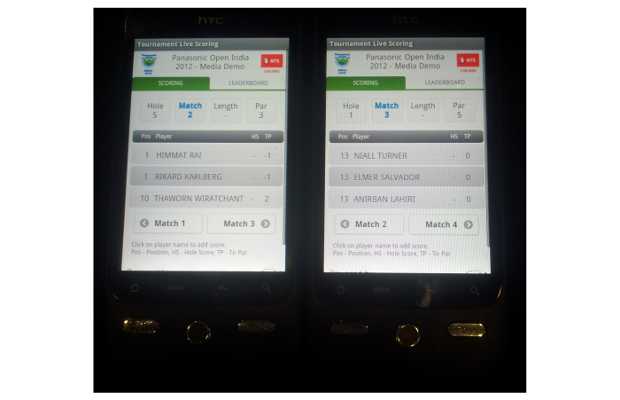 The app is fairly easy to navigate though with limited options. However ability to keep track of live score and also update one's own score can be of great use to golfers and doing that in a simple way is an added advantage.
However the app is only available on specially configured devices and not in the Android market (Google Play) and this limits the appeal the other golfers. However this app can easily be replicated for other Golfing events.
According to Shankar Bali, chief operating officer, Delhi NCR and Haryana circle, MTS India, said, "MTS is excited to announce its partnership with 4moles. Together, we have developed an exciting app for Panasonic Open India 2012. This innovative app running on MTS smartphones enables golfers to get access to live scores with real time updates on all competing participants, making the tournament all the more exciting for them."
According to Dinesh Thakur, chief executive officer and founder of 4moles.com, "This innovative application will enable the golfers to keep a record of individual scores and also real time Leader board update regardless of where they are. Going further, we will also be adding features of personal scoring on to this application. This application is exclusively available on MTS smartphones"