Micro Start International (MSI) is all set to launch two new Android tablets by the end of July in India, an MSI spokesperson revealed to The Mobile Indian.
The tablets, MSI Windpad Enjoy 10 and Enjoy 7, were unveiled by MSI at the Computex 2011 in Taipei a month back.
Both the tablets feature 1.2 GHz Arm Cortex 8 processor (Single core) along with 512 MB of RAM and 4GB of internal storage, while the expandable memory supported by both devices is 32 GB.
The Windpad Enjoy 10 will feature a 10 inch display with a 1024 x 768 pixel resolution and dual 2 megapixel cameras at both front and rear capable of recording 720p resolution videos too. The Enjoy 10 is expected to be priced at Rs 15,999.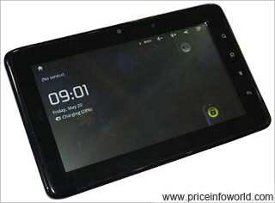 The smaller cousin of the Windpad Enjoy 10, the Windpad Enjoy 7 will not be much different in terms of specifications as the only difference is the smaller display with a 800 480 pixel resolution with a lower price tag of around Rs 11,999.
The only downside of both the devices is the inclusion of Android Gingerbread 2.3 as the operating system and not the adoption of Honeycomb 3.0. But as MSI said during the Computex 2011, Gingerbread offers better compatibility and stability for the devices.
Brilliant pricing and neat hardware specifications will definitely help MSI to create their own market share with the upcoming launch of the two tablets. But until the tablets hit the market nothing concrete can be said about how the market will react to them.