Google and Motorola, despite being sister concerns, will compete in the Android smartphone market. Motorola has already made its top of the line Razr XT910 available in India for about Rs 34,000. While the Google-Samsung Galaxy Nexus is expected by mid December, there is no hint of the pricing as yet.
Here we've compared the specifications offered by both these handsets.
Design and looks
In terms of physical design and build Motorola Razr certainly steals the attention with its 7.1 mm slimness; while Galaxy Nexus is 8.8 mm thick. Not to forget that the back panel of the Motorola Razr is made of Kevlar plastics, which makes it strong enough to survive blows. The Galaxy Nexus comes with a larger outlook, appearing to be a mash-up of Samsung Galaxy S II and Google Nexus S.
The slimmer profile of Motorola Razr certainly looks appealing while the bigger display with thin body makes Galaxy Nexus equally desirable.
Display
Both Motorola Razr and Galaxy Nexus come with a Super Amoled display with PenTile pixel arrangement scheme. Razr comes with a 4.3 inch Super Amoled display that bears a qHD (960 x 540 pixel) resolution. However, the Razr's display has a pixel arrangement density of 256 pixels per inch.
On the other hand, the Galaxy Nexus has a 4.65 inch Super Amoled HD display with 1280 x 720 pixel native resolution, and pixel density of 316 pixels per inch. Apparently it's the Galaxy Nexus that bags eyeballs when it comes to actual display, compared to the Motorola Razr.
Software
With the Galaxy Nexus, Google debuts Android 4.0.1 Ice Cream Sandwich operating system update with a fresh interface and several new features. Motorola Razr comes with Android 2.3.5 Gingerbread and there's no information on when it'll get the Ice Cream Sandwich update.
Clearly, Galaxy Nexus wins even where software is concerned.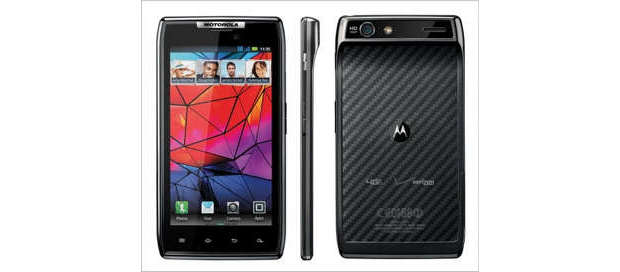 Processor and graphics
Both smartphones use dual core processors from Texas Instruments.
Galaxy Nexus comes with a dual-core 1.2 GHz TI OMAP 4460 mobile processor with PowerVR SGX 540 graphics chip clocked at 384 MHz.
Motorola Razr houses a 1.2 GHz TI OMAP 4430 mobile processor with PowerVR SGX 540 graphics chip and is likely to be clocked at 304 MHz. So, Galaxy Nexus might turn out to be a better graphics performer.
Camera
Google and Samsung have surprisingly packed only a 5 megapixel image sensor at the rear of the Galaxy Nexus, though it does record 1080p full HD video. The phone's front facing 1.3 megapixel camera is capable of recording 720p HD video. However, it's uncertain whether this is Galaxy Nexus' feature or Android 4.0's.
Motorola has added an 8 megapixel camera which too is capable of recording 1080p full HD video at 30 frames per second. If the 1080p full HD video recording quality is compared, then this handset might just turn out to be a clear winner.
There are no details whether Razr's front facing 1.3 megapixel camera can record 720p HD video or not.
Memory and storage
Though each smartphone carries 1 GB of RAM, there is a difference in the type of memory used. For instance, the Motorola Razr with 1.2 GHz TI OMAP 4430 is most likely to have a 1 GB LPDDR2 RAM while the Galaxy Nexus with 1.2 GHz TI OMAP 4460 will have 1GB LPDDR3 RAM.
The crucial difference lies in the higher memory bandwidth and faster performance promised by the LPDDR3 used in Galaxy Nexus, as opposed to the one used in Razr.
Motorola offers 16 GB on-board storage and a memory card slot to add up to 32 GB. Meanwhile Galaxy Nexus lags behind with 16 and 32 GB onboard storage options with no expandable memory slot.
Network and SIM
Galaxy Nexus will have an HSPA+ version for India, and might come with a 4G LTE chip. If that happens, then the Galaxy Nexus would offer maximum download speeds between 8 Mbps to 25 Mbps. However, the crucial difference between both handsets lies in the type of SIM used &#151 yes, the Motorola Razr users a microSIM.
Near Field Communication, WiFi and Bluetooth
Galaxy Nexus comes with Near Field Communication support while Motorola Razr doesn't. Instead, Motorola promotes the handset along with its webtop app that allows hooking up the phone to a larger screen.
Galaxy Nexus will come with Bluetooth 3.0 while the Motorola Razr will feature Bluetooth 4.0, which as of now looks good but has no real-world advantage to it. Besides, Galaxy Nexus comes with dual-band WiFi support (2.4 GHz and 5 GHz) compared to the Razr's slower single band.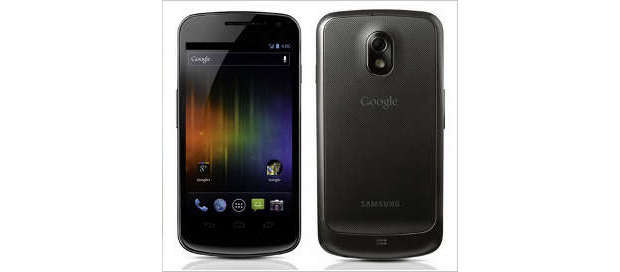 Battery
Galaxy Nexus packs a 1750 mAh battery while Motorola Razr packs a 1780 mAh battery. It may appear to be a number game but Android 4.0 ICS is expected to bring better power management compared to Android 2.3.5 Gingerbread, used in Motorola Razr.
Besides, the Motorola device comes with a non-removable battery which is why it is so thin whereas the Galaxy Nexus comes with the conventionally removable battery.
Conclusion
When compared head to head in several departments, the overall winner turns out to be Galaxy Nexus. It loses in the design, camera and storage expansion to Motorola Razr. Evidently, Galaxy Nexus would be the overall package which a keen technology enthusiast would love to possess.