It has been a year and six months since Lenovo CEO Yang Yuanqing revealed the possibility of Moto Razr's comeback. From that, we've come to know several key specifications of the phone before the renders of the Moto Razr popped up online. Now, new details about the Motorola Razr has now been leaked revealing that the foldable phone might get launched as early as December 2019 or January 2020.
According to a report by LetsGoDigital, the Motorola Razr foldable phone will be releasing in Europe around the New Years'. The Razr phone will come with a price tag of around €1,500 (approx. Rs 1,20,000) but there won't be flagship-grade specs defining the foldable device. This has been confirmed by an anonymous source at Motorola who spoke to the publication saying the Moto Razr will neither feature a large battery nor will it be powered by a top-end processor.
Instead, the Razr is expected to be powered by a Snapdragon 710 SoC and coupled with 4GB or 6GB of RAM and 64GB or 128GB of onboard storage. Previous rumours point out that the Razr foldable smartphone will have a primary display of 6.20-inch with a resolution of 2142 x 876 pixels. The secondary display will feature a resolution of 600 x 800 pixels. The Motorola Razr will be backed up by a 2730mAh battery with some kind of fast charging support.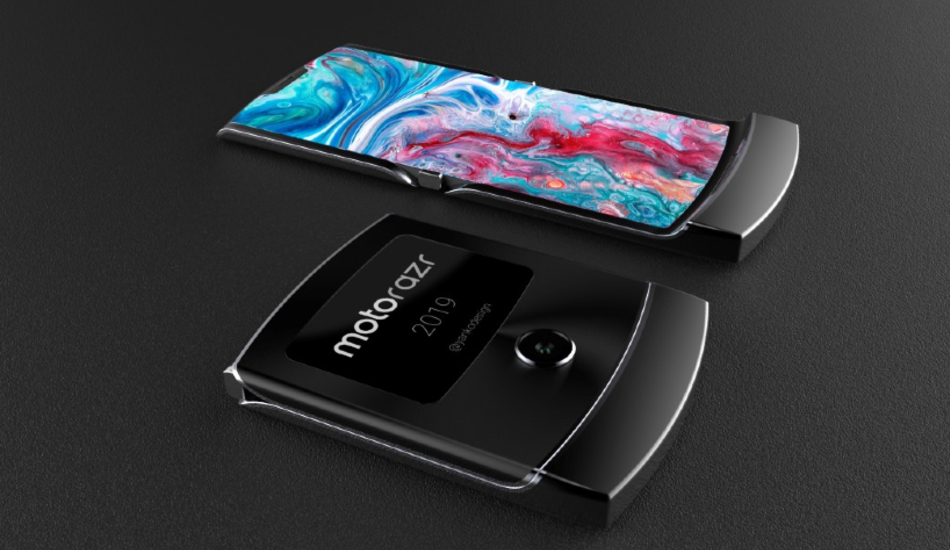 As for the design, the upcoming foldable phone from Motorola will fold like its original Razr phone used to and will thus be a flip phone but with a touchscreen on the inside. There will be a smaller screen on the outside which is expected to display notifications and status icons. Since the power unit is comparatively smaller, we can expect the Razr foldable phone to be as slim and having the same thin profile as the original Razr phone.
The report shares one of the renders of the Motorola Razr foldable phone created by designer Sarang Sheth for Yanko Design. The renders have been created based on the phone's patent registration which was submitted at the World Intellectual Property Organisation in December 2018.
The Motorola Razr is expected to launch as early as December 2019 or January 2020 for a price tag of around €1,500 (approx. Rs 1,20,000).