Motorola has quietly released the Android 3.2 Honeycomb Xoom 2 and Xoom 2 Media Edition tablets. Both carry similar hardware and software but Xoom 2 has a 10.1 inch HD display while Xoom 2 Media Edition has an 8.2 inch screen. The new Motorola devices will be available in the UK and Ireland soon.
The recently leaked Motorola Xoom 2 flyer ad indicated that the 8.2 inch Xoom 2 Media Edition 16 GB device will cost 400 Euros in Ireland. Thus we can expect the 10.1 inch Xoom 2 to cost approximately 550 Euros.
Both the new Motorola Xoom 2 and Xoom 2 Media Edition tablets have scratch resistant Corning Gorilla Glass displays. Xoom 2 has a 10.1 inch widescreen HD display that's slightly better than a netbook's. The 8.2 inch Media Edition device is meant purely for multimedia. Under the hood, each tablet has a dual core 1.2 GHz processor, presumed to be an Nvidia Tegra 3 (Kal-El) considering the first generation Xoom devices came with Nvidia Tegra 2 processors.
Both Xoom 2 tablet models pack 1 GB RAM and 16 GB onboard storage. Also, both run Android 3.2 Honeycomb tablet operating system and will be upgradable to Android 4.0 Ice Cream Sandwich. Physically, the design of Xoom 2 is pretty identical with flat corners but the 10.1 inch model comes with a special splash guard coating to save the screen from spills and rain.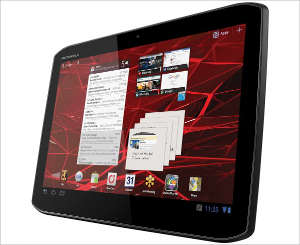 There's a 1.3 megapixel HD camera on the front and a 5 megapixel HD camera at the back with digital zoom, auto focus and LED flash. The 10.1 inch Xoom 2 will support a Motorola Stylus with precision tip for taking notes, sketching and other functions.
Xoom 2 comes packed with business focused applications and features such as enterprise grade security and remote access applications.
In terms of battery life the 10.1 inch Xoom 2 promises over 10 hours of web use
while Xoom 2 Media Edition supports about 6 hours. Both Xoom 2 models are WiFi only, in 16 GB, and there's no word yet on whether high storage and 3G SIM support models will be released.