Motorola is reportedly working on the Atrix 2 successor, dubbed as the Atrix 3. Chinese Website TianjinDaily received two images along with details about the upcoming Motorola Atrix 3 smartphone.
According to the report, the Motorola Atrix 3 will feature a quad-core Nvidia Tegra 3 mobile processor, 10 megapixel camera and run Android 4.0 Ice Cream Sandwich. This Motorola phone will have a 3300 mAh battery pack to make it last longer.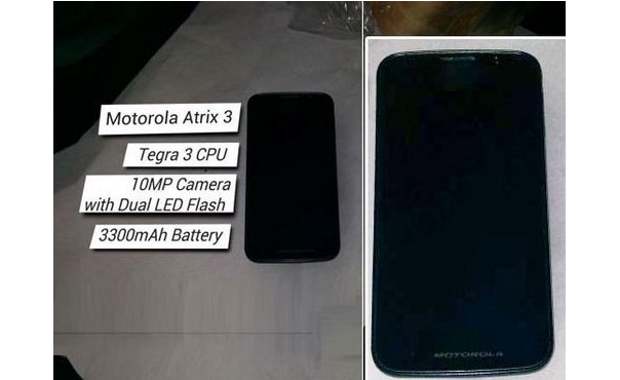 Motorola Atrix 3 will be the company's flagship device and will house a quad-core Nvidia Tegra 3 mobile processor. Sporting a 4.3-inch screen, the Atrix 3 will support 1280×720 pixel resolution – that would make text and images appear real crisp. By default this smartphone will run Android 4.0 Ice Cream Sandwich update.
To capture great images, Motorola will add a 10 megapixel camera which we believe should be capable of recording 1080p HD video by default. In past, both Motorola Atrix and Atrix 2 suffered from performance issues due to Moto Blur and also were criticized of having a locked boot loader. Motorola will add the 3300 mAh battery to this Atrix smartphone in order to make it run longer.
In the image, the Motorola logo is at the bottom of the phone and hence we believe that this would be yet another CDMA phone destined for the US region and carrier exclusive. This handset might be shown as early as Mobile World Congress 2012 but we expect it to be unveiled at the CTIA-Wireless 2012 in May.