Motorola is gearing up to launch its newest Moto E5 lineup, of which the E5 Play has been spotted on the company's official website in the US ahead of the launch next month. The latest surfacing thus confirms that the successor to last year's Moto E4 will be accompanied by a Play version which wasn't released back then.
The news comes in the form of a screenshot which displays a search query for the Moto E5 that resulted in a documentation with the name 'Moto e5 play' mentioned in the title. Going with what the label suggests, Moto Actions carries a list of gestures with the help of which users will be able to perform several actions and access shortcuts with ease. The document does on to state simple ways to make alterations into Moto Action Settings on the E5 Play. The development was first spotted by 91Mobiles.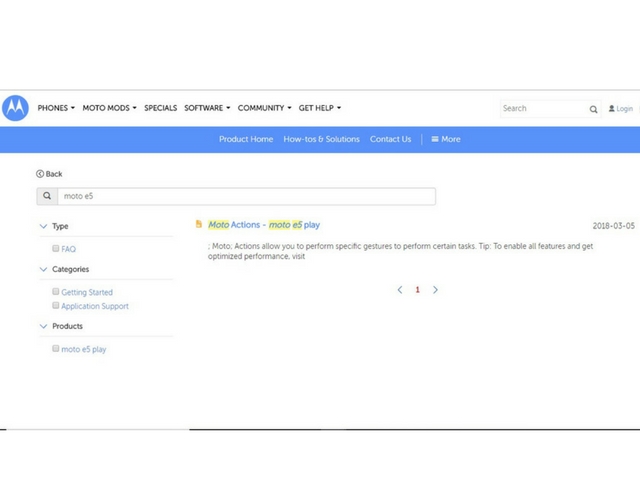 The E5 Play will release alongside the Moto G6, G6 Plus, E5 and E5 Plus which were certified earlier this month. According to leaked renders, the Moto E5 Play will feature a standard 16:9 display with thick bezels on to the bottom and top on the front side which also equips an LED flash. The device could be labelled as the E5 Cruise when being sold in the US as Lenovo plans to sell it through Verizon and Cricket Wireless.
It's speculated that the Moto E5 lineup will be launched early next monthafter several renders displayed the clock widget set to April 3rd, which leaves another week till anything is made official. The device has previously been certified as XT1922, XT1924 and XT1944 which has also revealed that the lineup will be powered by a Qualcomm processor.