99 per cent of the mobile phone users are aware of Nokia when it comes to mobile phones and devices. Following closely in terms of overall recall value are Indian brands like Micromax and Spice which have created a recall due to their innovations in the mobile phone space, according to survey.
The survey, conducted by CMR (Cyber Media Research), says that in the mobile phone market the trends are changing and that too at a faster pace.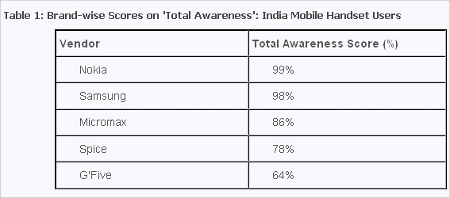 The survey has found that the mobile phone users now don't consider touchscreen and Qwerty keypads as to must have features.
"Launch of mobile handset models with innovative features by new and emerging vendors has changed the mindset of the Indian consumers. The two most used features on a daily basis were MP3 Player (60 per cent) and FM Radio (48 per cent). Experience with Qwerty Keypad or Touchscreen is no longer on top of a buyer's wishlist, as these are now available in basic feature phones," says Suman Dutta, head analyst, consumer research, CMR India.
The mobile phone users in India today are more feature conscious rather than brands thereby opening up new venues for emerging players to cash in the opportunity.
"Emerging mobile handset players, with their highly innovative features, have been able to influence the buying decision of first time buyers, especially the youth and blue collar executives," said Anirban Banerjee, associate vice president, research and consulting, CMR India.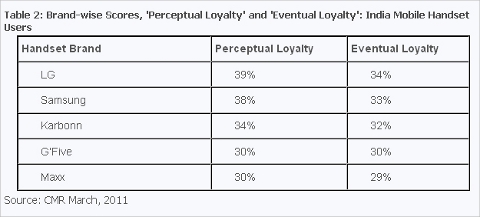 Emerging players are trying and tapping buyers in large numbers and in turn giving tough competition to established brands. The reason behind it is not just the innovation or the value add these brands are giving but after sales service is a critical element in making a buying decision.
In the survey consumers rated durability (35 per cent) as the most important factor while buying a mobile handset, followed by brand preference (29 per cent) and service and support quality (20 per cent)
When it comes to customer care and after sales support, BlackBerry (86 per cent) was able to delight their customers to the max followed by emerging Indian brands like Micromax (74 per cent) and Spice (66 per cent) which remained almost at par with the established brands like Nokia (78 per cent), LG (74 per cent) and Samsung (71 per cent).