AdMob, a USA-based mobile advertising platform, said that mobile web traffic (measured in terms of requests sent by the search engine for ads that are relevant to the terms being searched) to the AdMob network crossed the one billion mark last month. Speaking to Telecom Yatra, Mahesh Narayanan, country manager, AdMob, said, "We have seen explosive mobile web traffic growth in India with a 100 per cent increase since the last 12 months. The mobile web traffic from India on AdMob's platform stood at 1.2 billion in March." India generates the second highest mobile Web traffic globally on the AdMob platform following the USA, claims the company.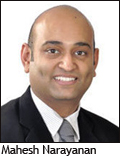 Narayanan said that the surge in mobile web traffic has come from both metros and non metros across the country with Aircel subscribers contributing the most, mainly owing to the launch of unlimited data plans by the pan-India operator. He added that in the near future, tier-II cities will be the biggest contributors to mobile web traffic in India as mobile web will be the major point of internet access for subscribers in those cities.
As per the AdMob Mobile Metrics Report for February, maximum web traffic in India came from Nokia 5130 and Nokia 3110c and of the smart phones, Nokia N70 and N80 saw the highest number of mobile web users. Narayanan said, "About 64 per cent of traffic on AdMob comes from smart phones, with Nokia, Apple iPhone and iPod Touch being the top devices." He is of the view that the number of iPhone users is low in India but that the traffic is high from the existing devices.
Commenting on future trends in mobile advertising, Narayanan said, "We see the younger demographic, mainly in the 15 to 30 age bracket, taking to mobile web. It will become an essential part of their lives and most marketers should start observing this trend."
In November 2009, Google had expressed its plans to acquire AdMob for $750 million (close to Rs 3,330 crore) and the deal is currently awaiting approval from the Federal Trade Commission of the United States. Founded in 2006, the company has a strong presence in the mobile advertising space and offers display ads on the mobile internet as well as within mobile applications. It also offers analytics and research tools.