The stage is now set and all eyes are on the London Olympics 2012 which is just hours away. In the quadrennial gala event, athletes of many sports of countries world over congregate to show their skills. Also, this time India is expected to break its Olympics medal tally record.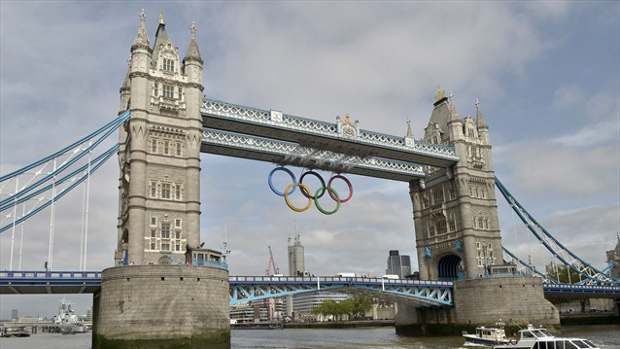 People often miss the golden moment of watching athletes making history, because they are unable to sit at home and watch TV. But no more, as now there are many applications that provide live broadcast of this Olympics. Here is a list of such apps for Android, iOS and BlackBerry operating system based devices.
###PAGE###
BBC Sport Olympics
BBC Sports has launched a new free application for Android and iOS operating system based devices that will offer live events coverage, comprehensive schedule and results pages, and daily news stories which can be saved for offline reading. It is also available for BlackBerry devices.
Alongside live streaming, catch-up coverage and highlights, the app ensures that users always have a games guide even on-the-go. Offering facts, stats and information, the app generates pages for every athlete, country and sport, updated in real-time. You can also access live daily text commentaries, news stories and a detailed schedule and results section covering every Olympics event.
The app allows stories to be saved for offline reading, ensuring the latest information is accessible even when mobile reception is unavailable. Additionally, iOS users can personalise the app by adding their favourite Olympics sports to the customisable tab bar, enabling quick access to the latest live action.
The iOS app is optimised for handsets with iOS 5.0 and above installed. The Android version is optimised for handsets with OS 2.2 and Flash installed.


The Android app can be downloaded now from the Android App Store. The iOS app can be downloaded from the iTunes App Store. A shortcut app for Blackberry users, which creates a bookmark for the BBC Olympics mobile website, is available from Blackberry App World.
BBC coverage of the 2012 Olympics can also be enjoyed on mobile phones via the mobile browser version of the BBC Sport website.
Android users can download this from the Google Play store, while the iOS device users can get the same from here and BlackBerry users must visit the BlackBerry App world.
###PAGE###
Official Olympics London 2012
The London 2012 results app is meant to offer all the latest updates, news, schedules and results. These updates will be almost live so that users can be updated with the results. Apart from live updates there will be details about the sports, athlete profiles, schedules and medal tables.
The app also allows people to follow the live schedule that offers details of the sports events in progress and lets users share the results in real-time over social networks. This app will offer loads of multimedia in terms of photos and other information. There is no mention of live videos or videos on demand.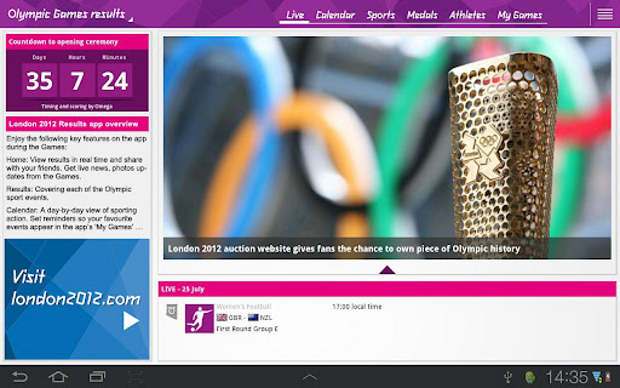 The London 2012 Olympics app will feature 36 sports of the Olympics and 21 sports of the Paraolympics.
It is available for Android, BlackBerry and iOS devices.
###PAGE###
Reuters Olympics London 2012
Available only for iOS devices, the app provides some best Olympics pictures captured by the Reuter's photographers.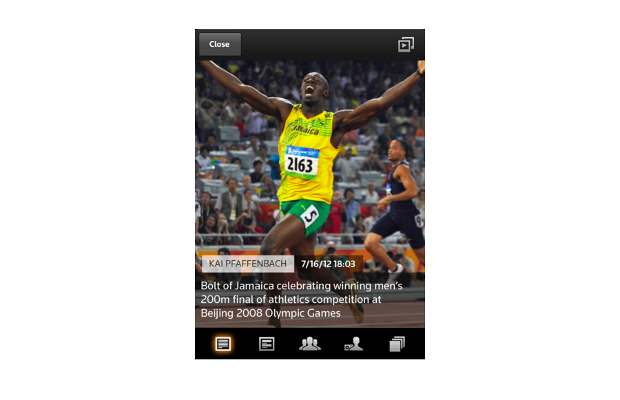 You can check Olympic records and schedules and results of various events by events or date. It also provides photos by sport through its Photo Filter option. These pictures can also shared on social networks like Facebook and Twitter.
It is compatible with iPhone 3GS, iPhone 4, iPhone 4S, iPod touch (3rd generation), iPod touch (4th generation) and iPad. It requires iOS 5.0 or later.
###PAGE###
PlayUp of Samsung
PlayUp is another application which is designed to keep the users up to date with the latest action at the biggest sporting event on the planet. Its home screen features a running countdown to the start of the 2012 Summer Olympics and provides access to various sports.
The app has been designed to provide live updates. Country based geo-targeting in the app will give users the most relevant content for the country that they support.'News Tiles' will display news segregated by location and sport.
The app will also track the social media action, segmented by location and sport. The app will also feature tiles for medal tally, schedules, key events, player ranking, etc.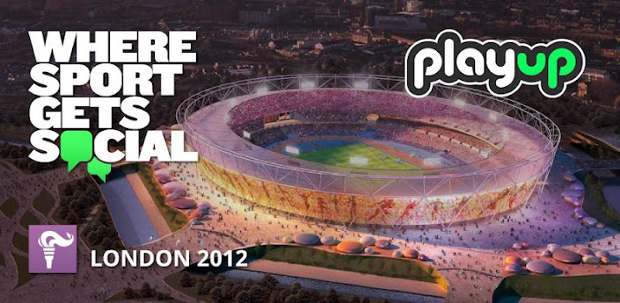 The Samsung India, which is the official sponsor of the Indian team to the London 2012 Olympic games, has launched an exclusive Olympics app called 'PlayUp', which will be available to users free of cost from the Samsung app store under the special 'London 2012' category and from Google Play store as well.
PlayUp app is available for both iOS devices and Android devices. Besides, a special version is available for Samsung Galaxy smartphones including the Galaxy SIII, and Galaxy SII from Samung app store.
Besides these, there are many other apps on Android, iOS, and BlackBerry devices which you can search for on their respective application stores.