Microsoft Canada has posted a link on its websitewhere it has accidentally revealed names some unannounced handsets. WPCentral reported that the post has now been edited but previously four unannounced handsets were mentioned. These four handsets are &#151 Nokia Searay, Nokia Sabre, Samsung Yukon and Samsung Wembley. There were no further details available on either of the handsets.
Out of the four codenames, we already know about Nokia Searay Windows Phone 7.5 running handset which is quite similar to the Nokia N9. The Searay handset will have 3.9 inch screen and an 8 Megapixel camera.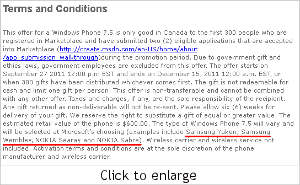 Nokia World event is scheduled to take place next month and it won't be a surprise now if the handset maker unveils the new Nokia Searay and Nokia Sabre. There are no details about the Nokia Sabre as yet.
Besides, the two Samsung handsets &#151 Wembeley and Yukon, will come with Windows Phone 7.5 Mango preloaded. Samsung has signed a deal with Microsoft to settle the patent disputes.
Samsung is said to have paid more than $180 million in royalties this year. It receives marketing as well as development assistance from Microsoft for Windows Phone handsets. Apart from the recently announced Omnia W, Samsung will roll out two more Mango update running handsets in near future.
Microsoft has already started rolling out the Windows Phone 7.5 Mango update to the existing Windows Phone handsets.