Microsoft and Google are going to head to head in the battle to build the perfect AI language model. While Microsoft announced the new Bing Image Creator based on OpenAI's DALL-E, Google announced the open access program for its own AI language model, Bard. Read on to know more about how you can use the Bing Image Creator and sign up for Google Bard Open access program.
Microsoft Bing Image Creator
The Bing Image Creator brings new AI-powered visual Stories and updated Knowledge Cards to the new Bing and Edge preview. Powered by an advanced version of the DALL∙E model from OpenAI, Bing Image Creator allows you to create an image simply by using your own words to describe the picture you want to see. Now you can generate both written and visual content in one place, from within chat.
The new image creator is rolling out to those who are in the Bing preview. Bing Image Creator will be fully integrated into the Bing chat experience, rolling out initially in Creative mode. By typing in a description of an image, providing additional context like location or activity, and choosing an art style, Image Creator will generate an image from your own imagination, says Bing.
Furthermore, Bing Image Creator preview will also be available in Microsoft Edge, making it the first and only browser with an integrated AI-powered image generator. To access the Bing Image Creator in Edge, you can click the Bing Image Creator icon in the sidebar to create your image or invoke from Bing chat in Edge.
Google Bard Open Access Program: How to sign up, Availability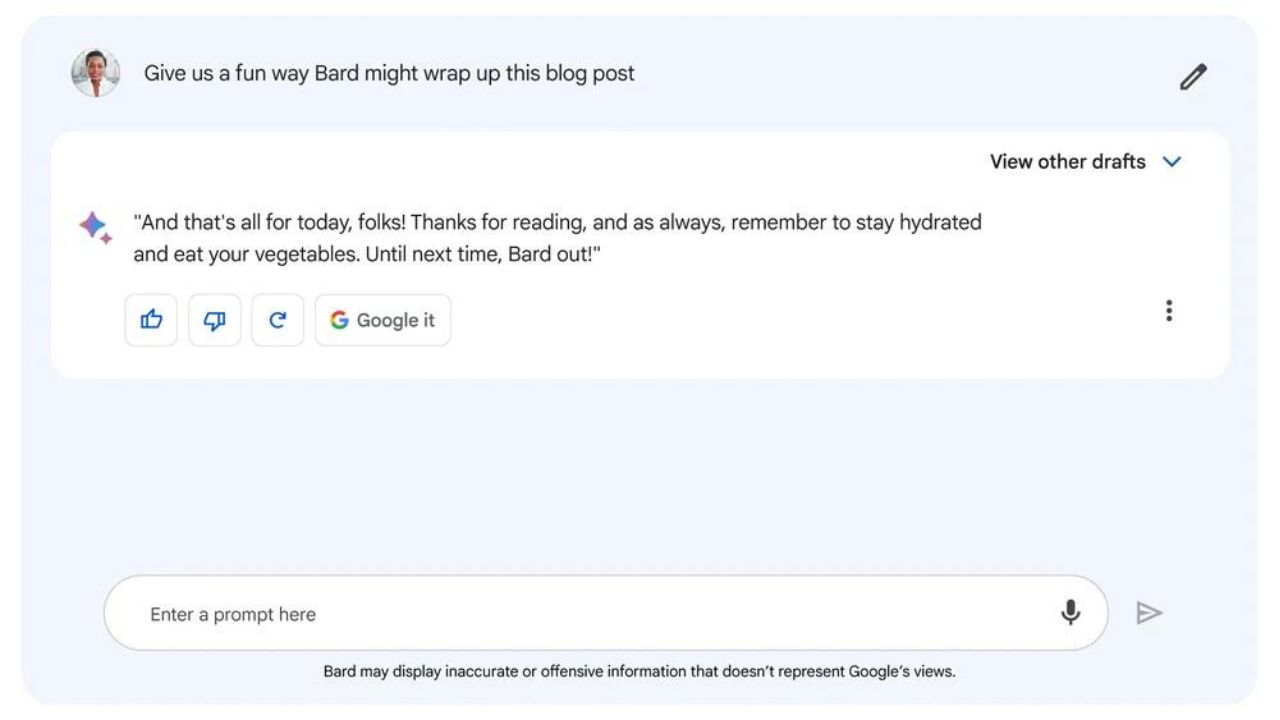 Google has announced that it is starting to open access to Bard, an early experiment that lets you collaborate with generative AI. The company already revealed what Bard is about a while back. It combines the depth of the world's knowledge with the power, intelligence and creativity of Google's large language models. It draws on information from the web to provide fresh, high-quality responses. Bard can be an outlet for creativity and a launchpad for curiosity says Google.
Google says that when using Bard, you'll often get the choice of a few different drafts of its response so you can pick the best starting point for you. You can continue to collaborate with Bard from there, asking follow-up questions. And if you want to see an alternative, you can always have Bard try again.
Google also acknowledged how Bard can sometimes make mistakes in its responses so it shouldn't always be believed for everything you ask. It then confirmed that it is using human feedback and evaluation to improve its systems, and has also built in guardrails, like capping the number of exchanges in a dialogue, to try to keep interactions helpful and on topic.
"We'll continue to improve Bard and add capabilities, including coding, more languages and multimodal experiences. And one thing is certain: We'll learn alongside you as we go. With your feedback, Bard will keep getting better and better", Google said in a blogpost.
You can sign up to try Bard at bard.google.com. Google has already begin rolling out access in the U.S. and U.K. and plans to expand over time to more countries and languages. Do note that if you get access to Bard, Google will collect the details of the chat you have with the AI model.
However, the information it collects is anonymous in nature so it cannot identify the exact person chatting with Bard, unless you intentionally end up sharing your personal information.