Microsoft has formally introduced the successors of its Windows platform based Surface tablets, called Surface Pro 2 with Windows 8.1 and Surface 2 with Windows 8.1 RT. Sporting 10.6-inch ClearType Full HD display, the Surface 2 is powered by Nvidia Tegra 4 chipset while the Surface Pro 2 runs Intel Core i5 "Haswell" ultra low power mobile processor. Microsoft will offer Surface 2 starting $449 (Rs 28,185 approximately) and Surface Pro 2 starting $899 (Rs 56,356 approximately) from October 22 and early November in 22 markets excluding India. These new tablets will be sold through Microsoft's own online store and select third-party retailers as well as commercial stores.
Both new Surface tablets will have Kickstand integrated at the back, bumped processing power and most importantly – battery life. In terms of design, Microsoft has decided to stick with the same VapourMg Magnesium alloy technology molds used in the first generation Surface tablets. So the new Surface 2 tablets look slim, sleek and light.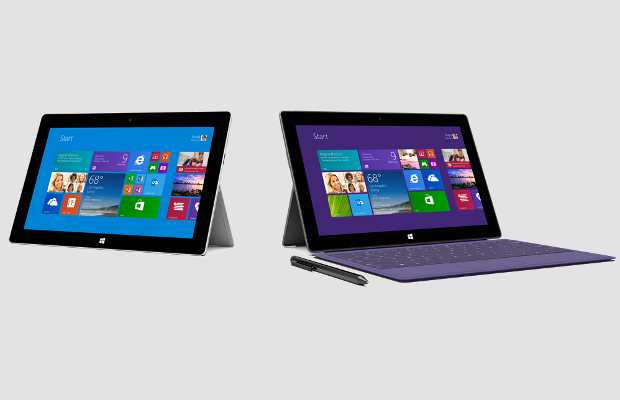 Surface 2 tablet is powered by the quad-core Nvidia Tegra 4 mobile processor but apparently, the tablet does not make use of the companion core. Microsoft has used a 10.6-inch ClearType Full HD display that promises 46 per cent better colour accuracy. By default, the screen resolution has been bumped to 1920×1080 pixels. The tablet features a full size USB 3.0 port for faster file transfers. At the rear it has a 5 megapixel camera while a 3.5 megapixel camera is in the front for video calling. Both cameras can record 1080p HD videos.
This tablet will come loaded with Windows 8.1 RT, Office Home & Student 2013 RT and Outlook RT to offer decent package of using the tablet out of the box. Surface 2 will be offered in 32 GB and 64 GB on-board storage options. The Surface 2 promises about 10 hours of battery life.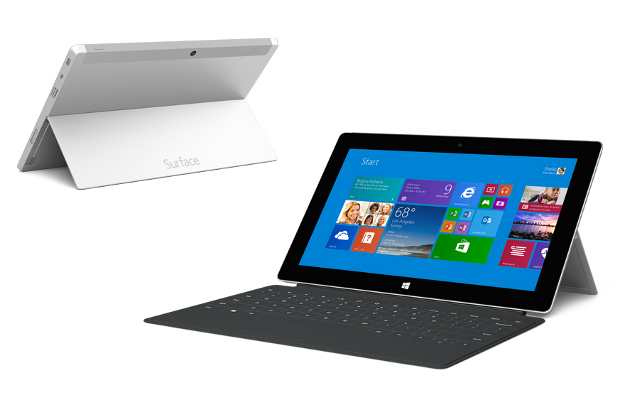 The Surface Pro 2 tablet features a 10.6-inch ClearType display with 1920×1080 pixel resolution. This display offers 46 percent better accuracy in colour reproduction. Microsoft has armed the tablet with Intel Core i5-4200U mobile processor. This tablet will be offered in two different configurations – 4 GB RAM with 64 GB /128 GB storage and 8 GB RAM with 256 GB SSD / 512 GB SSD storage. Clearly, the Surface Pro 2 aims to compete with the Apple MacBook Air. Even the Surface Pro 2 has four USB 3.0 ports along with Ethernet port and Mini DisplayPort. This tablet will run Windows 8.1 Pro build along with full Office Suite.
Both new Surface tablets have the new Type/Touch Cover 2s along with a new Power Cover that comes with built-in battery. Even the new Arc Touch Mouse Surface edition will be offered separately. The early buyers of the Surface 2 and Surface Pro 2 will get free International Calling and free Wi-Fi through the official Skype app.
Microsoft had plans to introduce the Surface tablets in India but that never happened. Now we hope that the Surface 2 and Surface Pro 2 tablets might be on the plans for India launch.