MapmyIndia, which provides location-based services in India, today announced the launch of ShowNearby, a free location-based places app for BlackBerry, Android and iPhone. It allows users to search and discover all places of interest nearby, such as restaurants, ATMs, petrol pumps, retail brands, coffee shops, tourist spots, emergency services etc. The application is powered by digital map data from MapmyIndia.
ShowNearby application takes the GPS location of the user automatically and based on that, shows the list of places sorted by distance from where the user is. For any place the user wants to visit, the application shows the user details of the place, such as name, address and phone number.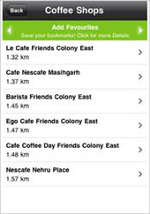 "The user can view the place on MapmyIndia's detailed maps and get accurate directions to it, directly call up the place, save it to his contacts and also share the place with friends via email or SMS. The user can also see and request deals at outlets and brands in the application," said the company in a release.
The application is available free of cost to the user. It is currently available for BlackBerry, Android and iPhone platforms and will soon have versions for mobile web and Windows Phone 7. The application can be downloaded through the Blackberry App World, Android Market and iTunes App Stores and searching for the 'MapmyIndia ShowNearby' app or by visiting m.mapmyindia.com from the user's mobile phone browser. More details about the app are available at www.mapmyindia.com.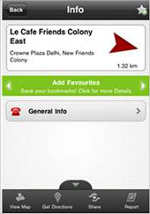 Rohan Verma, director MapmyIndia, says, "We're very excited to launch the MapmyIndia ShowNearby application in India as an easy utility for users to get information of nearby places and offers on their mobile, and an excellent platform for brands to help users discover their store and business locations and run location based offers and promotions. We are happy to collaborate with Douglas and his team at ShowNearby to bring this application to the Indian market."
The MapmyIndia ShowNearby application has been launched in collaboration with Singapore startup, ShowNearby &#151 which runs a location based application for users of Singapore.