Apple has launched the 15-inch MacBook Air alongside the new Mac Studio and Mac Pro with M2 chips, in India. Apart from this, Apple also unveiled the M2 Ultra processor, that combines the die of two M2 Max chips using Apple's UltraFusion technology. The brand also unveiled the next version of macOS, called macOS Sonoma. Read on to know more about what the machines have to offer.
MacBook Air 15-inch: Price, Specs, Availability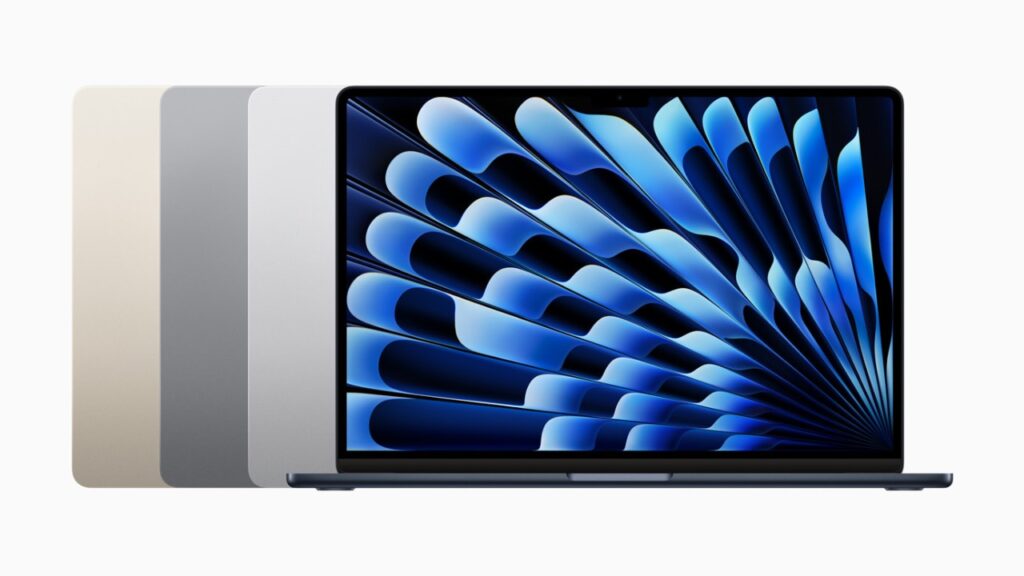 The 15-inch MacBook Air with M2 is available in midnight, starlight, silver, and space gray colours, and starts at Rs 1,34,900 and Rs 1,24,900 for education. It is available to order today via the Apple Store website. It will begin arriving to customers, and in Apple Store locations and Apple Authorized Resellers, beginning Tuesday, June 13.
The new MacBook comes with a 15.3-inch Liquid Retina display, paired with up to 500 nits of brightness and support for 1 billion colours. The new MacBook Air measures only 11.5mm thin, making it the world's thinnest 15-inch laptop. The laptop also features MagSafe charging, two Thunderbolt ports for connecting accessories and up to a 6K external display, along with a 3.5mm Headphone jack.
The laptop is up to 12x faster than the fastest Intel-based MacBook Air, says Apple. It also also delivers a battery life of up to 18 hours and runs on the M2 chip. The machine features an 8-core CPU with four performance cores and four efficiency cores, a 10-core GPU for graphics, and a 16-core Neural Engine. M2 also delivers 100GB/s of memory Bandwidth and supports up to 24GB of fast unified memory.
Next, users get a 1080p full-HD FaceTime camera alongside a new six-speaker sound system with two tweeters and two sets of force-cancelling woofers. The new speakers deliver twice the bass depth for fuller sound, and Spatial Audio with support for Dolby Atmos, claims Apple. It runs on macOS Ventura and will receive macOS Sonoma update later this fall.
Read More: Apple Vision Pro AR Headset unveiled, runs on VisionOS
Apple M2 Ultra processor: Specs
The M2 Ultra is built using a second-generation 5-nanometer process and uses Apple's UltraFusion technology to connect the die of two M2 Max chips, therefore doubling the performance. M2 Ultra consists of 134 billion transistors — 20 billion more than M1 Ultra.
Its unified memory architecture supports up to 192GB of memory capacity, which is 50 percent more than M1 Ultra, and features 800GB/s of memory bandwidth. The chip has a CPU that's 20 percent faster than M1 Ultra, a larger GPU that's up to 30 percent faster, and a Neural Engine that's up to 40 percent faster. It also features a media engine with twice the capabilities of M2 Max for ProRes acceleration.
The Apple M2 Ultra Processor has dedicated, hardware-enabled H.264, HEVC, and ProRes encode and decode, allowing M2 Ultra to play back up to 22 streams of 8K ProRes 422 video.
The display engine supports up to six Pro Display XDRs, driving more than 100 million pixels. With M2 Ultra powering the new Mac Pro, Apple says that the Mac transition to Apple silicon from Intel chips is now complete.
Apple Mac Studio, Mac Pro with M2 series chips: Price, Specs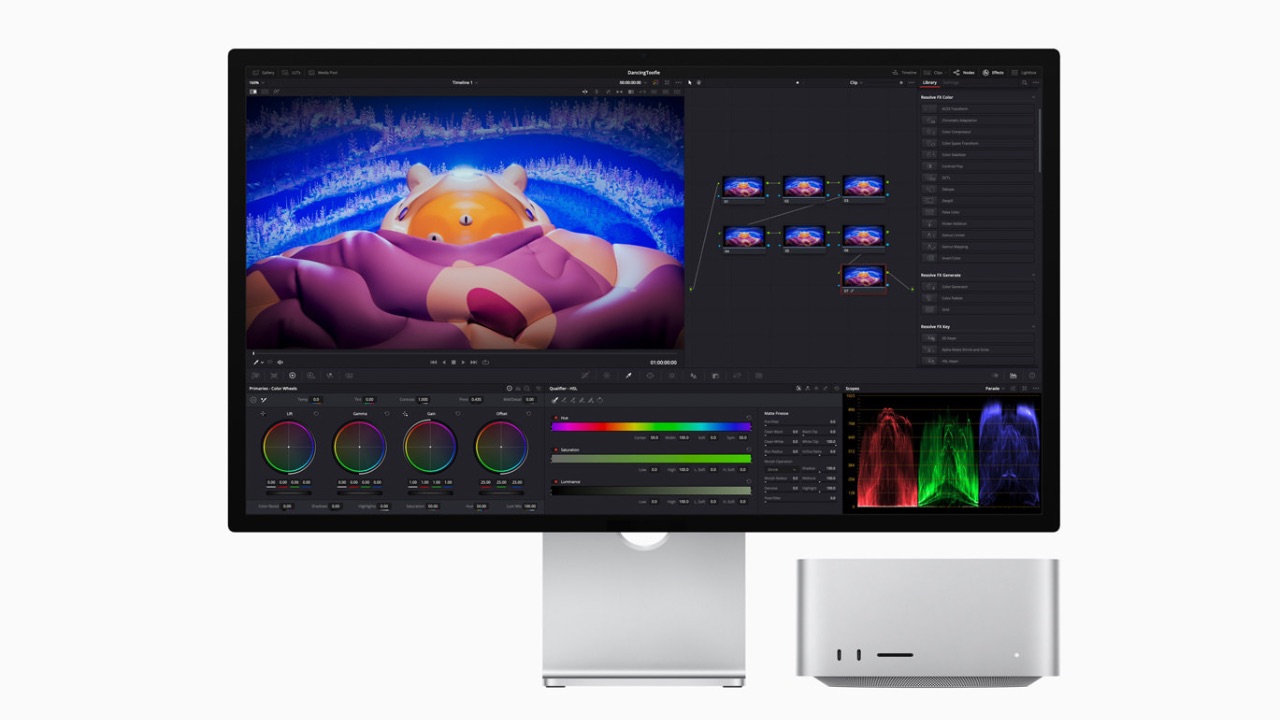 The Mac Studio starts at Rs 2,09,900 and Rs 1,88,900 for education. The Mac Pro (Tower Enclosure) starts at Rs 7,29,900 and Rs 6,87,900 for education. Mac Pro (Rack Enclosure) starts at Rs 7,79,900 and Rs 7,27,900 for education. They are already available for ordering starting today. They will start to arrive to customers, and will be available in Apple Store locations and Apple Authorised Resellers, beginning Tuesday, June 13.
The Mac Studio comes in two variants, with M2 Max and M2 Ultra chips. Mac Studio with M2 Max is up to 50 percent faster than the previous-generation Mac Studio and 4x faster than the most powerful Intel-based 27-inch iMac. It features a 12-core CPU, up to a 38-core GPU, and up to 96GB of unified memory with 400GB/s of memory bandwidth.
Mac Studio with M2 Ultra is up to 3x faster than the previous-generation Mac Studio with M1 Ultra, and up to 6x faster than the most powerful Intel-based 27-inch iMac. It features a 24-core CPU, up to a 76-core GPU, and up to 192GB of memory with 800GB/s of unified memory bandwidth.
With M2 Ultra, Mac Studio supports up to six Pro Display XDRs. Additionally, it now features advanced built-in wireless technologies. Wi-Fi 6E delivers download speeds that are up to twice as fast as the previous generation, while Bluetooth 5.3 allows users to connect to the latest Bluetooth accessories. On the back, Mac Studio includes four Thunderbolt 4 ports, a 10Gb Ethernet port, an enhanced HDMI port, and two USB-A ports. It also has two USB-C ports and an SD card slot on the front.
Coming to Mac Pro, it now gets Apple M2 Ultra and can be configured with up to a massive 192GB of memory with 800GB/s of unified memory bandwidth. It also features the same industry-leading media engine as Mac Studio with M2 Ultra. Both can play an unprecedented 22 streams of 8K ProRes video.
Mac Pro features seven PCle expansion slots, with six open expansion slots that support gen 4. Further for connectivity, it has eight built-in Thunderbolt 4 ports — six on the back and two on the top. It supports up to six Pro Display XDRs, along with Wi-Fi 6E and Bluetooth 5.3, which come to the new Mac Pro for fast wireless connectivity. Additionally, Mac Pro includes three USB-A ports, two higher-bandwidth HDMI ports that support up to 8K Resolution and up to 240Hz frame rates, two 10Gb Ethernet ports, and a headphone jack.
macOS Sonoma: New Features
MacOS Sonoma, which arrives this fall, gets interactive widgets which the users can place widgets anywhere on the desktop. macOS Sonoma brings enhanced video conferencing features that enable users to present and share their work more effectively within any video conferencing app. Presenter Overlay, a new video effect, elevates a user's presence by displaying them on top of the content they are sharing.
Additionally, there's a new Reactions feature that will allow users to share how they feel by seamlessly adding balloons, confetti, hearts, and more into the video, which can also be triggered with a hand gesture. The improved Screen Sharing picker simplifies the process of sharing apps during video calls.
Safari is also getting new security oriented updates, such as to Private Browsing, which provides protection during browsing both from trackers and from people who might have access to the user's device. Advanced tracking and fingerprinting protections in Private Browsing go even further to help prevent websites from tracking or identifying the user. Private Browsing windows also lock when users are not using them, allowing them to keep tabs open even when they step away from their device.
Safari has a new profiles feature to help users stay organised by offering a way to separate browsing between topics, while also keeping cookies, history, extensions, Tab Groups, and Favorites separate. There are new screen savers as well as a new Game Mode. Game Mode delivers an optimized gaming experience with smoother and more consistent frame rates, by ensuring games get the highest priority on the CPU and GPU.
Game Mode also lowers audio Latency with AirPods, and significantly reducing input latency with popular game controllers like those for Xbox and PlayStation by doubling the Bluetooth sampling rate. The new Game Mode works with any game, including all of the recent and upcoming Mac games.
It also comes with new accessibility features, streamlined PDFs, ability to change 'Hey Siri' hotword to just 'Siri', improvements to Messages App and more.