To cater to the needs of iPad users who love to play games on their devices, Logitech has launched a joystick for iPads.
The joystick is designed to help users play games on their tablets but the best part of this accessory is that it does not need power or connectivity.
Logitech's Joystick for iPad is a thumb-stick game controller that you can use with just about any game with an on-screen joystick or D-pad. The device attaches to your iPad with suction cups that are easy to apply and easy to remove.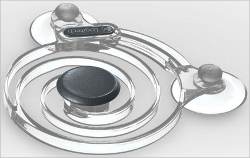 The coiled spring provides force feedback that automatically returns the joystick to the center position. This way it gives the user precise control over movement and over the game as well, making it the perfect accessory any tablet gamer would want.
Logitech's Joystick is expected to be available in the USA and European markets beginning this September at a suggested retail price of $20 or Rs 500. There is no information as to when this device will be available in India.