LinkedIn, the professional networking site, has launched its mobile application for BlackBerry smart phones globally, adding to its existing mobile offerings for iPhone and Palm Pre.
The application can be accessed at www.linkedin.com/blackberry and on BlackBerry App World, and has integration with the BlackBerry, which allows professionals to use LinkedIn within their existing email, calendar and contacts apps.
Hari V Krishnan, country manager, LinkedIn India, told Telecom Yatra, "We had achieved 3.4 million registered LinkedIn users in India till November 2009 and last week we announced that we have crossed 5 million. We want to make LinkedIn a core part of a person's day to day professional life and the mobile strategy is extremely important for us. We have built this application keeping in mind the BlackBerry platform and we have integrated LinkedIn in BlackBerry itself. We have also integrated LinkedIn to Microsoft Outlook and IBM Lotus Notes."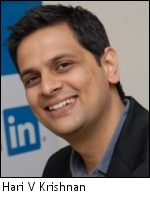 The LinkedIn app is free and available for download on theBlackBerry Tour, Curve and Bold models. It is available globally in English, Spanish, French, German, Japanese, and Chinese languages.
Commenting on launching the app on other platforms, Krishnan said, "We are definitely going to partner with other platforms and this is not the end. There are two things to it – firstly, we need to keep in mind the platforms of choice for professionals because our focus is on professionals and secondly, we want to partner with handset manufacturers for building the app for their platforms and not just a generic WAP (mobile internet) site as we believe that, in future, mobile will be all about integration of apps."
The LinkedIn web site was launched in 2003 and claims to have more than 60 million members representing 200 countries and executives from every Fortune 500 company. The company's corporate headquarters are in California, USA.