Leading up to the launch event which has been scheduled for February 24, LG has started feeding tiny pieces of information about its upcoming G-series flagship smartphone – the G8 ThinQ. In fact, the South Korean company has now confirmed that its next-generation flagship will indeed be called the G8 ThinQ and has revealed that it'll feature a time of flight sensor on the front.
The news comes from LG's own newsroom which revealed that LG has partnered with Infineon Technologies to integrate a REAL3 image sensor which will make room for Time-of-Flight (ToF) technology to smartphone front cameras. The new sensor will be coupled with the selfie camera lens to deliver accurate measurements of a subject's distance from the camera.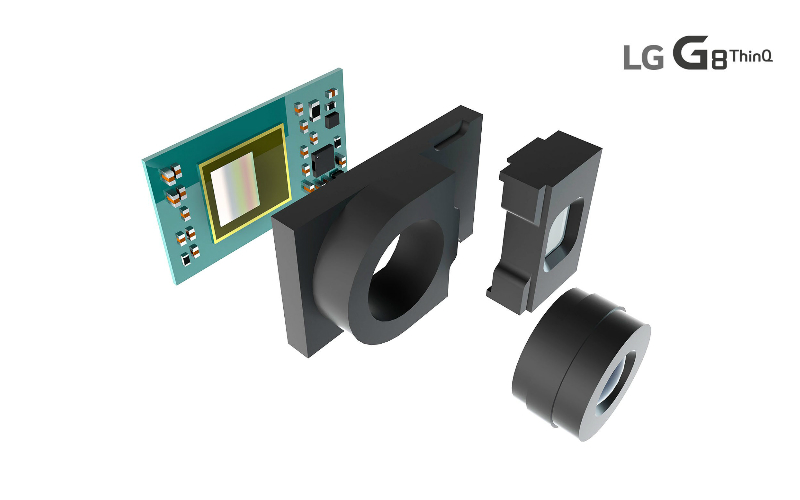 This is done by capturing the infrared light that gets reflected off the subject, making TOF sensor a faster, more convenient solution to complex algorithms that compute an object's distance in theory. LG has revealed that this TOF sensor will be used on the front of the G8 ThinQ to enable 3D face recognition on the smartphone.
In addition to biometric authentication purposes, the Time-of-Flight (ToF) sensor will also help improve face recognition so that augmented reality (AR) and virtual reality (VR) applications perform better. This will thus make way for more accurate AR effects using Snapchat and we can expect LG to implement fun features like Apple's Animoji.
Speaking about their latest development, LG Mobile Senior VP, Chang Ma said "Keeping in mind LG's goal to provide real value to its mobile customers, our newest flagship was designed with ToF technology from inception to give users a unique and secure verification system without sacrificing camera capabilities. The LG G8 ThinQ featuring ToF will be the optimal choice for users in search of a premium smartphone that offers unmatched camera capabilities".
As per leaks, LG's upcoming flagship will feature 6.1-inch waterdrop-style notch display with an aspect ratio of 19.5:9 and will be powered by Qualcomm Snapdragon 855 SoC. It will have a triple-camera setup with the ability to shoot in 3D. The phone will also include a 3.5mm audio jack, USB Type-C port and a dedicated Google Assistant button and could measure 152x72x8.4mm.
The LG G8 ThinQ is expected to be launched at an event on February 24 in Barcelona at MWC. LG has already hinted that the upcoming smartphone could be controlled without touching the screen with your hands. The G8 ThinQ will also come alongside LG's V50 ThinQ that is expected to come with Snapdragon 855 and support for 5G technologies.