LG is planning to release more Google Android OS loaded handsets in coming months, according to PocketNow.
It said that the South Korean giant is eying five more Android based handsets, out of which four will certainly come with Android Gingebread richness while one is expected to be an entry level Froyo loaded handset. There's no word on the official launch of these handsets.
To lead the line up will be LG Prada K2 handset that will feature a 4.3-inch NOVA LCD display and will be mere 8.8 mm thick. Under the hood, it will pack a dual-core processor and will run on Android 2.3 Gingerbread. With Prada-inspired body casing, this handset will support 3G and expected by the end of November.
LG Victor will be a mid-range handset with 3.8-inch OLED WVGA display, 1GHz processor, five megapixel camera at the back panel and a VGA camera in the front. Even this handset will come with Android 2.3 Gingerbread and will offer DLNA, WiFi Direct and WiFi (802.11 b/g/n) support.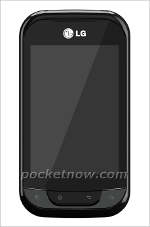 Certainly LG would like to reap on the Optimus One's popularity with its successor dubbed as LG Univa that will sport 3.5-inch HVGA display. The LG Univa may feature an 800 Mhz processor which rises above the 500Mhz bearing Optimus One. Univa will come with Android 2.3 Gingerbread and is said to carry 11.5mm thickness. This model will carry 5-megapixel camera and it becomes a perfect contender in the mid-range Android segment.
The lucrative low-end segment will be tapped with LG E2 handset that most likely will come pre-loaded with Android 2.2 Froyo. It will feature a QVGA display and a 3 megapixel camera to become a super budget Android. For the US based Sprint users, LG will introduce a Near Field Communication capable Gelato which will sport 800Mhz processor, 3.2-inch HVGA display and 3-megapixel camera.
With no specific timeframe mentioned, expect these handsets to show up any time in coming months but mostly Holidays. Do note that the specifications mentioned are part of a roadmap and may change with the launch of actual devices.