The US-China trade conflict has opened up a big hole in China's mobile manufacturing industry with the production of white labelled handsets from the US set to migrate out. ( A white-label phone is a product made by one company that other companies rebrand under their own badge). An Indian company, Lava International, is set to emerge as a big beneficiary, with a steep rise in revenue on the cards.
Lava is on the verge of bagging white labelled smartphone and feature phone manufacturing orders from a couple of leading service providers besides a few handset players operating in the US.
A source familiar with the development has said to The Mobiles Indian, "Two leading US service providers are in advance stage of placing feature phone manufacturing orders with Lava, with the NDA's already in place." The source further added, "Even a few US handset brands are also in advance stage of negotiation, to place orders for white labelled smartphones with Lava."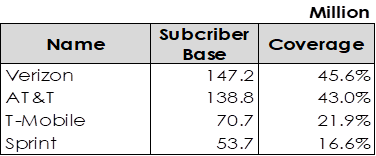 Though our sources didn't share the name of service operators, we have unconfirmed information that they could be At&T and Verizon. As far as handset brands are concerned, Blu, TCL, NUU Mobile, HomTom and Alcatel are the likely brands.
When we contacted Lava to confirm the development, they refused to comment on the forward-looking development. When we enquired about the manufacturing cost of smartphones that Lava incurs, Lava Spokesperson said, "In the sub 100$ segment our quotes significantly less than what others Chinese ODM charge."
He added, "Most of the manufacturers have expertise in above 200$, but we have a stronghold in manufacturing sub- 100$ mobiles." Commenting about the ongoing UC China conflict, he said, "In the coming years, India will emerge as the leading destination for smartphone, and with the kind of support the Indian government is giving it will become a reality as soon as 2021."
He further said, "Couple of leading smartphone manufactures in China want to do a joint venture with us to manufacture smartphones in India, and they are even ready to do technology transfer in case the need arises."
Did it happen overnight?
No. Lava has been working on scaling up its manufacturing capabilities for the last three years. In 2018, the company invested over Rs 2,600 crore in its manufacturing units to reach a production capacity of 21.6 crore units in the next five years to capitalize on manufacturing sub Rs 10,000 smartphones.
Not only that, but Lava also has India's first mobile devices design centre to give a boost to mobile manufacturing ecosystem in the country and attract component players. They have put in a claimed initial investment of Rs 250 crore in it to design budget smartphones for their brand as well as other companies.
Even investments are flowing for Lava, and the spokesperson of the company has confirmed the development. He said, "We are in advance stage of discussion with a couple of investors who will join us as strategic and financial investors."
"Lava is also contemplating getting listed US stock exchange to widen its horizon," said the spokesperson. Apart from India, Lava is present in 24 countries where it is selling phones under its brand name. The countries include Nepal, Bangladesh, Sri Lanka, Australia, Pakistan, Indonesia, Mexico, the Middle East, Russia, Egypt, Thailand, Ghana, Nigeria and Kenya.
In 2018, Lava claimed that they are the first Indian company to have its own SMT (Surface Mount Technology) plant which focused on local manufacturing of PCBA (Printed Circuit Board Assembly) units.
Post installation of SMT Lines Lava is importing wafer from a semiconductor manufacturer in China and using the SMT line to imprint the entire circuit board on top of it including embedding components like camera module, memory (RAM / ROM), processor etc.)
Major deals and partnerships:
Lava has entered into EMS ( Electronics manufacturing services) service agreement with Micromax and Lenovo for providing mobile assembly and SMT services.
It is also designed software and hardware for its smartphones, which are used in a portable ultrasound machine for GE (General Electric).
Recently, Lava has also received an invitation from Uzbekistan to establish a manufacturing unit in the country.
In 2017, Lava signed an MOU and non-disclosure agreement to explore the opportunity of manufacturing phones in Egypt in collaboration with the Government of Egypt.
Why the US Market?
Lava knows it is difficult for it to penetrate in the above $200 smartphone market in the US, so it is playing to its strength. It's focussing on feature phones and sub $100 smartphones. Even the order they are going to be bag is primarily for feature phones followed by entry-level smartphones.
US Market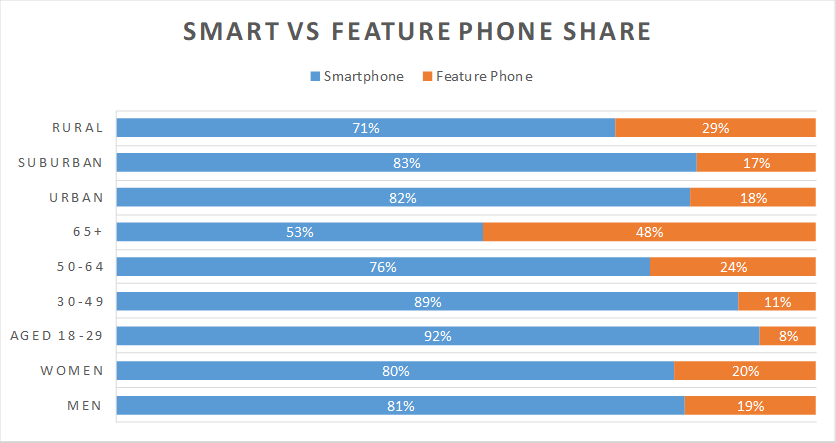 In the US, 95% of the population uses smartphones out which 19% of the people use a feature phone of different brands. This dual phone owning segment is Lava's key market. Lava expects growth in the feature phone segment and hence looking to capitalize on this opportunity. Lava spokesperson said, " In US lot of mobile users are looking to buy locked/ unlocked feature phone as their secondary device because the cost of purchasing is not a hindrance and for calling purpose it fits the bill."
| | |
| --- | --- |
| Brands offering Unlocked Smart Phones Available under 150$ in US | Unlocked Feature Phones player in US: Price range $ 20 to $50 |
| BLU Mobile, NUU Mobile, HOMTOM | Blu, Plum, Slide |
| Motorola, LG, Samsung, SKY devices, GOL mobile | LG, Nokia |
| ASUS, Alcatel, ZTE Mobiles | Verizon |
To further cement it's "Mission America" strategy, Lava has established an office in the US and has even done a few hirings as well. Also, Lava is not banking only on Operator and Brand ties. It is exploring the possibility of selling Lava branded device through Amazon and Walmart as well. As of now, we don't have more details on this particular development though.