Karbonn Mobiles, an Indian phone brand, has launched Karbonn KT-21 Express a touch and type phone with messaging solution.
The phone comes with Smart Mail a push mail solution' and 'Karbonn instant messenger' (KIM). Karbonn Smart Mail', a push mail solution from Karbonn powered by Emoze allows users to easily and securely access both enterprise and personal email accounts, synchronize email contacts and calendar, view office attachments, send voice messages via email and chat in real-time with their friends. Other popular email accounts like Yahoo, Hotmail, AOL, GMail, Outlook, and POP3/IMAP can also be accessed in this device.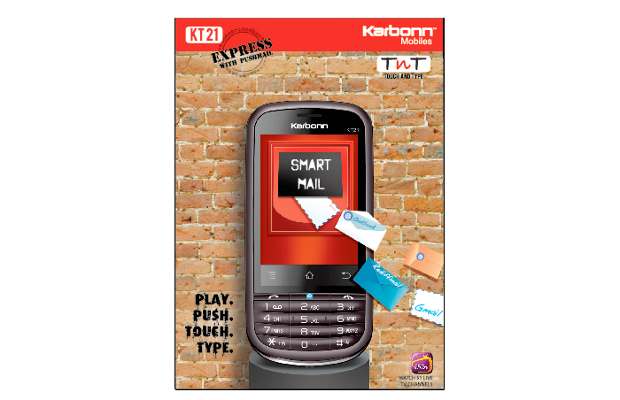 Shashin Devsare, executive director, Karbonn Mobiles said, "At Karbonn Mobiles, we always believe on massifying technology and consumer delight. Both in urban and rural India, today entertainment is on the move. A larger chunk of consumers are looking for affordable phones with larger screens, effective UI, long lasting battery and, above all, the functionality that fits their mobile entertainment."
Karbonn Instant Messenger (KIM), is a PIN based real time text application which makes chatting easier with friends using the KT21 and also lets them stay connected to other friends & buddies by configuring GTalk and Facebook accounts on their devices.
The phone also brings live television by including 'NexgTV' application which allows users to watch 50+ Live TV Channels on the phone.
Karbonn KT-21 also gets 2.8 inch TFT QVGA capacitive screen coupled alpha-numberic keypad and other features like Dual SIM, proximity and motion Sensor, a 3.2 megapixel camera with Flash, 16 GB memory support, Java applications, PC Sync, Bluetooth with A2DP support, GPRS/WAP/MMS/EDGE Support, mobile tracker, dual torch, 3.5mm Universal Audio Jack. It also gets 1000 mAh Li-ion battery.
The phone is priced at Rs 4490 which is affordable given the features that it comes with.