Xiaomi is a well-known smartphone brand in India that provides a variety of devices in different price categories. Despite its popularity, there have been reports of issues with Xiaomi phones and its sub-brands like Redmi and Poco. Some of the most notable problems reported by users are highlighted below.
Motherboard dead issue
The Xiaomi sub-brand launched Poco F5 in May of this year, and soon after it went on sale, people started facing issues with the device. Many people complained that the phone started freezing, and some said it was dead all of a sudden. Some also faced problems with its display, and Poco shrugged off the issue by stating that it was due to motherboard failure.
Thankfully, Poco provided a two-year warranty on its Poco F5 models as a precautionary measure after seeing what happened to its previous models.
Furthermore, the Motherboard issue carried on from Poco X3 Pro till the Poco F4. As a result, Xiaomi had to increase the warranty period by 1 year on select models that were facing a lot of issues, including the Poco X3 Pro.
Mi 11 Ultra Wi-Fi issue
Mi 11 Ultra was Xiaomi's top-end flagship for 2021, yet it still fell victim to Xiaomi's quality control issues. Several units of the Xiaomi Mi 11 Ultra, which the Qualcomm Snapdragon 888 SoC powered, had issues with reliable Wi-Fi connectivity. Reports claimed that the problem occurred due to poor thermals of the phone that had an impact on the Wi-Fi hardware of the device.
As a solution, Xiaomi, earlier this year, provided Mi 11 Ultra users with two options where they could upgrade to a Xiaomi 12 Pro for free or pay Rs 30,000 and get the Xiaomi 13 Pro, which is the company's latest flagship and generally retails for Rs 79,999.
Poor Quality Updates
Xiaomi's MIUI is one of the most heavily skinned Android-based UIs. Xiaomi enhances its skin with each update, but some of the updates were of very poor quality. Poco X2 users in India began reporting problems back in 2021 with the device's camera, touch, and charging after updating to MIUI 12.5.6.
People took to X (formerly Twitter) to complain about the poor quality software update where their Poco X2 handsets stopped responding after installing it. Some of them claimed that their phone stopped responding to touch inputs, or their camera stopped working, and the device also charged slower than before.
Several other users have complained of faulty updates in the recent past with various phones. They have also posted videos of their phone glitching while using it. Then, the Redmi Note 10 Pro and the Note 10 Pro Max were also affected by the MIUI 12.5 update, where the handset's front camera would freeze and stop working.
Another example is the buggy Android 11 update for Mi A3 devices, which not only made some devices freeze but also bricked them, rendering the handset useless. Ultimately, Xiaomi had to halt the rollout and urged customers to visit any of the service centres where their devices would be repaired for free regardless of the device's warranty status. It re-released the update a few weeks later, which no longer brick the Mi A3.
While faulty updates can be pushed by any brand, including Samsung and Apple, Xiaomi has mainly been the one who has the most number of complaints in this regard, which are also not limited to one model but are spread across its lineup.
Adware in the OS
If faulty updates weren't enough, Xiaomi also began to inject adware into its operating system to make more profit. Recently, several users started complaining about Mintnav on Xiaomi phones, which replaced the default Google search page in Chrome browser without the user's consent.
According to reports, Mintnav "falls into the category of Browser hijacker applications." While it doesn't threaten your security and privacy, it does act as a hindrance while you browse the internet and interrupt your experience.
However, Xiaomi had something else to say about Mintnav. In a statement, the company refuted the allegations that Mintnav is a hijacker software and said, "Mintnav is a website by Xiaomi. Mintnav is designed to enhance users' digital experience by providing quick access to trending news and websites tailored to their preferences. Like with other OEMs, all Xiaomi devices also have the Proprietary homepage as a default setting. However, Mintnav is an optional feature, and users can easily disable their settings".
Fortunately, users can change the homepage of their Chrome browser on their Xiaomi phone by going to the browser settings and setting it back to Google Search.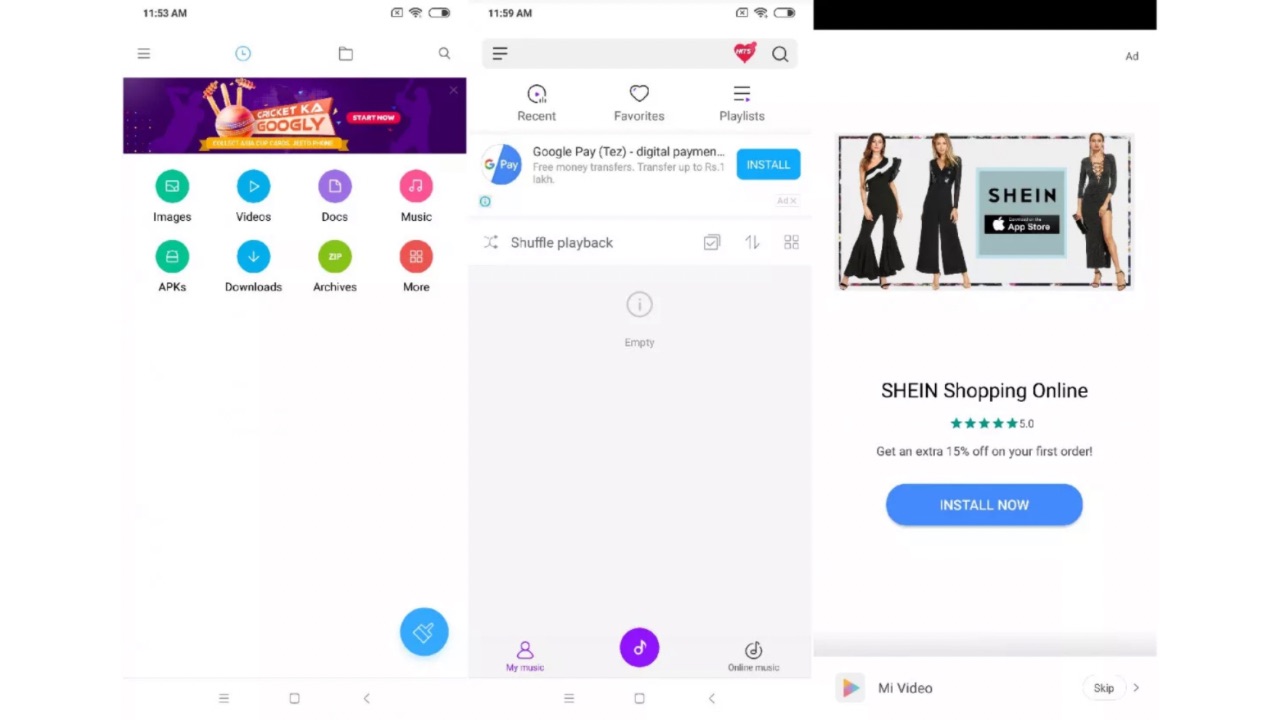 Aside from this, the company decided to integrate ads throughout the MIUI system in 2018 and faced a huge backlash. It launched new apps with ads, while the system apps, such as the launcher and the file manager, were also loaded. Pushing these ads would potentially allow the brand to make more profit, and it chose that over a good user experience.