The ambitious Linux based operating system (OS) from Nokia and Intel, MeeGo, had seemed to hit a roadblock since there was very little information about it in the market. Interest in the OS increased after a recent event organised by Intel in Moscow, especially since the Intel official allowed journalists to take pictures of a prototype smartphone and tablet.
People could not figure out much about the tablet just by its appearance except that it looks like the iPad, but a glimpse of the smartphone revealed more.
Toward a new MeeGo ecosystem
As of now, the game seems to be open only to quick movers in the market because the marketplace may change beyond recognition between the time when an idea is conceptualised and when it is implemented. The vision is to give developers a platform to create applications which can be marketed through Intel's AppUp Center and Nokia's Ovi Store.
Access apps from any device
With the new ecosystem in place, users will be able to access their applications from any device running MeeGo OS, which could be tablets or smartphones. However, whether this ecosystem will work or not has still to be seen since there are many players aiming for the same segment including Apple and Google. Therefore, it is difficult to predict how much ground will be open for MeeGo.
Probable Nokia smartphone features
The phone reportedly comes equipped with an Intel Atom processor and, of course, the MeeGo OS. Its other notable features are a 5.0 mega pixel camera, WVGA resolution screen and a camera for video calls. The OS itself sports faster boot time, supports Flash and provides easier access to social networking websites. It is also reportedly more secure because of the Linux legacy.
There is already some talk that Nokia N9 will be the first device featuring this new OS. It is also rumored to have features of N8 and more.
Best and worst case scenarios for MeeGo
It was reported in February this year that Intel and Nokia decided to merge Maemo and Moblin on a Linux based platform to come up with an OS that would work well with major devices including netbooks, laptops and phones. In the best case scenario, MeeGo may be adopted by a wide range of companies including developers, software vendors, device manufacturers and network operators.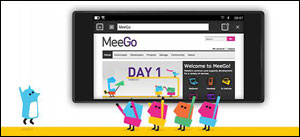 It's true that as a project, MeeGo is relatively young. However, it is based on established and mature technology that first saw the light of day in 2005 as something called Maemo. Given the fact that MeeGo is from Nokia, which still controls close to 50 per cent of the mobile phone market, and Intel which is the biggest in terms of processors for PCs, the likelihood of success is decent.
However, Android and iOS have already established themselves and Nokia and Intel will have to ensure that MeeGo delivers a better experience to the end user and a better deal to developers who are crucial in nurturing the ecosystem.