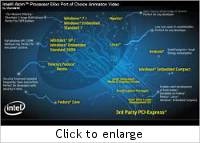 Tegra, Snapdragon, ARM have been in the processor domain for mobile devices for quite sometime now and same is the time Intel has been out of this domain, especially after having a low power processor like Atom in their product line up.
To capitalise on this opportunity Intel is looking at a customised Android gingerbread version optimised for Intel's next generation series E6xx Atom processors.
With this custom build Android Gingerbread Intel is looking at giving various device manufacturers a solution to run Android on Intel powered devices as well.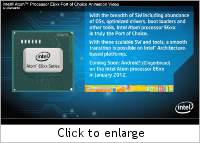 The reason why Intel has been trailing in the mobile devices domain is due to the high power requirement of the Atom processors as compared to the other processors that are being used in different smartphone and tablet devices. And with the launch of this custom Android operating system Intel aims at achieving better battery optimisation and much needed efficiency for the Atom E series processors.
Intel has released a video also disclosing more details about this process and the future plan related to the E Series atom processor. In the video Intel has announced the launch date of the Android Gingerbread on Atom as January 2012.