A month after promising Thunderbolt 3 on all PCs and laptops of the future, Intel has unveiled the 2nd-Generation Intel Xeon Scalable processors which will be labelled as the Xeon Platinum 9200 series.
The Xeon Platinum 9200 will be a Cascade Lake processor with built-in Deep Learning Boost (DLB) technology which will add AI capabilities to the next generation of IoT platforms. The processor will offer a performance of up to 14 times in terms of deep learning and provides better speech recognition, image classification and object detection.
The four processors listed under the new series include the Xeon Platinum 9282, Xeon Platinum 9242, Xeon Platinum 9222 and Xeon Platinum 9221 with a minimum of 32 cores and 64 threads with a Turbo Boost capacity of 3.7GHz.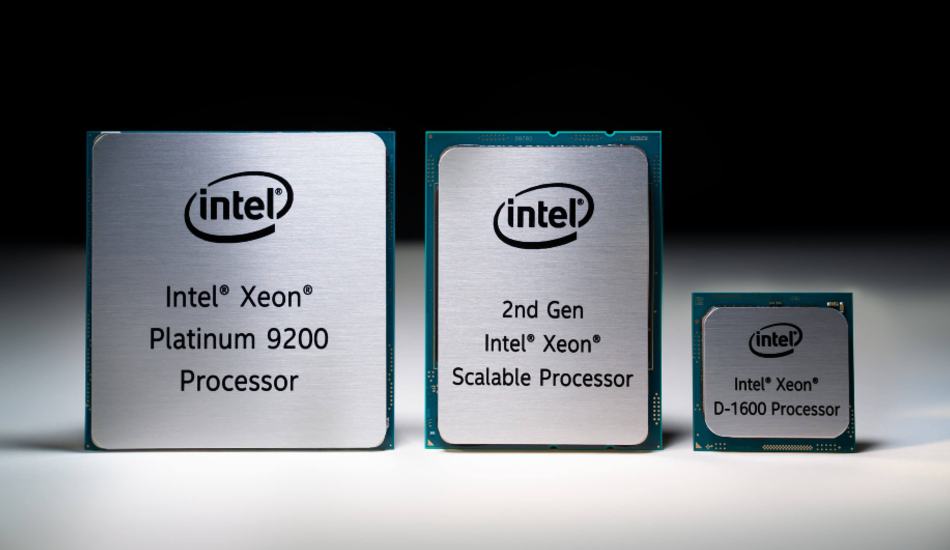 The flagship Xeon Platinum 9282 will offer a total of 56 cores and 112 threads and can be clocked between 2.6GHz and 3.8GHz with a TDP of 400 watts. In contrast to the Platinum 9282, the latest Intel Core i9 9980XE offers 3GHz to 4.4GHz clock speed at 165W TDP, which is more manageable for a home setup.
The Xeon Platinum 9200 series offers double the cache per socket with a total of up to 77MB on the Platinum 9282 and 71.5MB on the other three. The Platinum 9200 series will also feature support for 12-channel DDR4 memory.
Speaking about their latest launch, Intel Data Center Group GM, Navin Shenoy said "Today's announcements reflect Intel's new data-centric strategy. The portfolio of products announced today underscores our unmatched ability to move, store and process data across the most demanding workloads from the data centre to the edge. Our 2nd-Generation Xeon Scalable processor with built-in AI acceleration and support for the revolutionary Intel Optane DC persistent memory will unleash the next wave of growth for our customers".
The 2nd-Generation Intel Xeon Scalable processors will be available for everyone starting today and wish ship inside systems inside the first half of 2019.