Facebook-owned Instagram is celebrating the first anniversary of its famous 'Stories' feature. The company has also released some interesting data from its most popular creative tools and stickers, to the top accounts with the most-viewed stories over the past year. Additionally, Instagram is launching a birthday/celebration sticker pack in stories in order to celebrate its first anniversary.
Last year, Instagram introduced Stories feature, which was accused of being a blunt copy of a similar feature used in Snapchat. However, the stories-related data has something else to say. According to the company, which has 700 million users worldwide, 250 million active users are already using Stories on a daily basis. Instagram says that it has rolled out over 20 new features so far including Boomerangs right in the story, stickers, face filters, ability to mention and link other accounts and so on.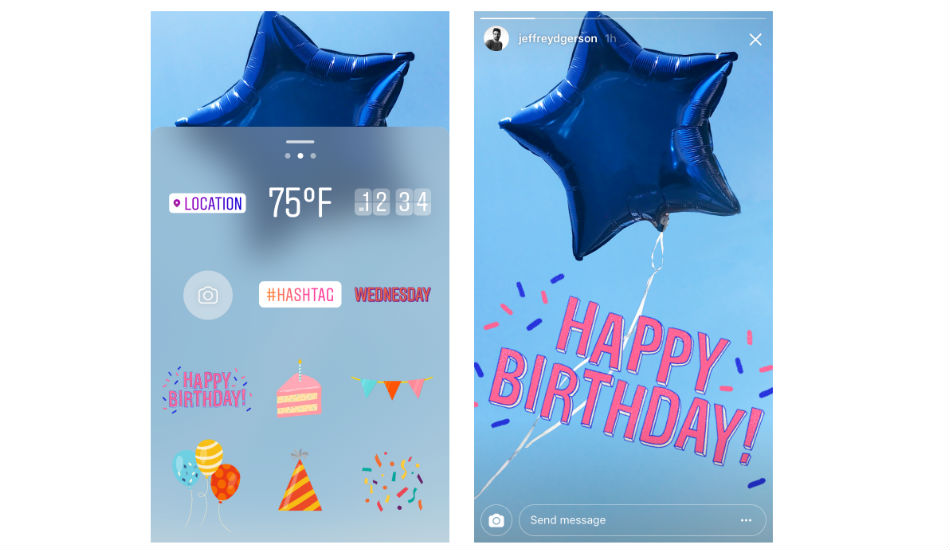 Instagram reveals teens are the strongest stories consumers and producers as they consume 4 times more stories per daily active person than non-teens. Further, teens produce 6X more Stories per daily active person than non-teens. Boomerangs, which is one of the most famous features in Stories, has been used 1,364,663,130 times since launch in stories.
Moving on, the company has revealed the top-viewed stories producers in India and Bollywood actress Sonam Kapoor takes the first spot, which is followed by Alia Bhatt, Parineeti Chopra, Shraddha Kapoor, Jacqueline Fernandez, Priyanka Chopra, Deepika Padukone, Shahid Kapoor, Anushka Sharma and Virat Kohli.
You might also like this:
Coming to the top location tags, Jakarta, Indonesia, is the most tagged location on Instagram. Further, the top Hashtags used on its platforms are #Goodmorning, #work, #goodnight among others. The most used popular face filters are puppy ears, sleepy mask, bunny ears, love with heart-shaped darts and Koala bears. Lastly, most popular stickers include vibrant location sticker, digital time sticker, Like sticker, Hashtag sticker and weather sticker.