Today, Instagram is rolling out three new security centric features to its service on all platforms in an effort to make its photo sharing community safe and analyse the authenticity of accounts with large followers count.
Starting with the most highlighted feature, Instagram will be rolling out a new "About this account" option on all profiles. This option will be available under the three-dot menu when visiting an account and will display various information that will help you evaluate the authenticity of the person or organisation using the account. On clicking the option, users will be greeted with specific details like when the account joined Instagram, the country it's active from, change in username in the past year, ads it runs and accounts with shared followers.
This will help users in distinguishing which accounts distribute a relevant piece of news or stories and which ones spread fake news. Users will large followers will be able to review this information on their profile before it goes live from September.
Additionally, Instagram now allows you to apply for a verified account badge (the blue tick that appears next to your username). The option can be accessed by applying for verification under "Request Verification" from your account's 'Options' page. This will let you add your full name and a copy of business or legal ID so Instagram will roll your account into processing. While you can apply for account verification, Instagram doesn't guarantee that your account will get the blue tick.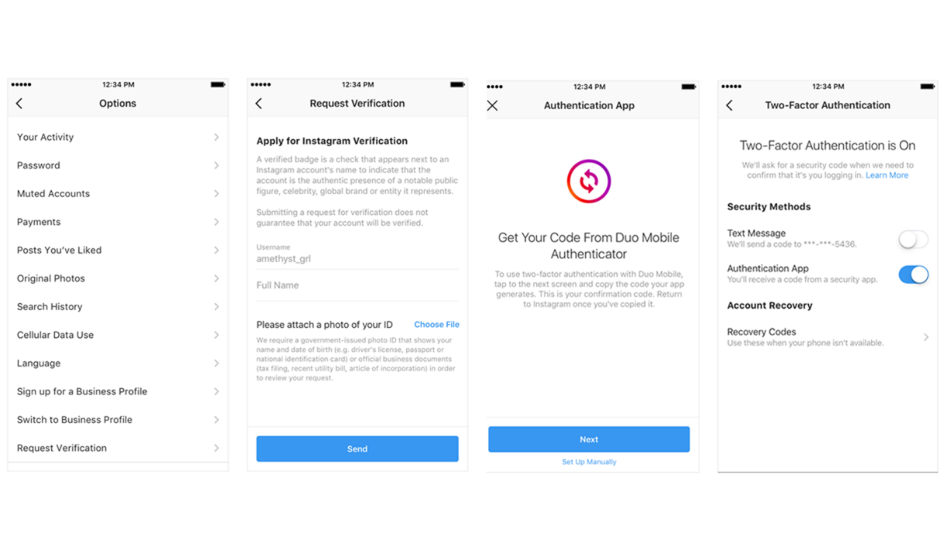 Last but not least, Instagram is now providing users with the ability to use third-party apps for its two-factor authentication when logging into an account. In order to use it, users will need to choose 'Two-Factor Authentication' by heading over to 'Settings' under the menu icon and then select the necessary app as your preferred method of authentication. Instagram will then open the app that's mention or lead you to the Play Store or App Store in case you haven't downloaded the app authenticator.
All changes are being currently rolled out and in order to make sure you receive these updates first, download and update the Instagram app on your smartphone to the latest firmware.