Clear images of the upcoming HTC Bliss handset have surfaced online through a Chinese forum XDA.cn. HTC is holding a special public invite-only event on 1 September in four different cities at the same time and HTC Bliss is most likely to be unveiled at the event.
Bliss appears to run the new HTC Sense 3.5 user interface with a front facing camera. No further details about the handset are available as of now.
Following the suite of the HTC ChaCha and HTC Salsa, the new handset in question &#151 HTC Bliss, is most likely to be a stylish device. HTC Bliss will come with different colour options and will be aimed at the younger generation of users.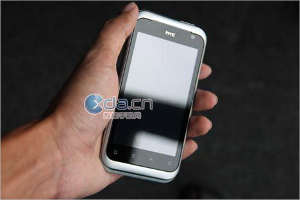 HTC Bliss may come with a sub-1 GHz processor and might run Android 2.3.x Gingerbread update. At the back will be a modest 5 megapixel camera. From the image it appears that this Android phone will have a 4 inch display.
The HTC event on 1 September is also rumoured to announce a few Windows Phone 7.5 Mango devices. The event would be held in England, France, Spain and Germany at the same time. The invite clearly states that the attendees will get to see what's next from HTC. That would include a bunch of new devices and also a sneak peek at the next version of HTC Sense user interface.
Apparently, Samsung is also holding a special event on 1 September, which happens to be right before IFA 2011 which starts from 2 September in Berlin, Germany.