Research In Motion surely surprised many when it mentioned support to run Android apps on PlayBook tablet. However, the leaked images of BlackBerry Messenger running on Android operating system will surprise many. TechRadar has received two images that show BlackBerry Messenger (BBM) on an Android smartphone. This news will certainly interest several Android and BlackBerry smartphone owners for its cross-platform messaging potential.
Earlier this year The Mobile Indian reported that RIM was planning to work on a stripped down version of BlackBerry Messenger for Android and iOS platforms. Now images show a BlackBerry Messenger BBM icon in the Android App menu and the BBM user profile.
Apparently, users won't have a similar experience on the BlackBerry Messenger on BlackBerry OS. Now BBM for Android may interest users who wish to keep in touch with their friends, family or colleagues. BBM for Android will carry the same PIN system for adding users but there's no clarity on threaded conversations.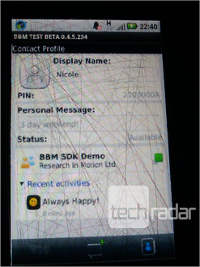 BlackBerry Messenger for Android seems to be developed using the BlackBerry Messenger SDK, along with BlackBerry Java SDK.
With Apple on the verge of releasing iOS 5, which brings a new iMessage messaging platform, it's quite unlikely that Apple will approve the massively popular BlackBerry Messenger. Although it would be interesting to see the BlackBerry Messenger for iOS compete with the iMessage service.
So far screenshots indicate that BBM for Android might be in the pre-alpha or alpha stage. There is no official detail on the project and we may have to wait for a bit longer to actually see the instant messaging service on Android.