In a move to not let the crowd get frenzied away with its competitors Xiaomi's new products, Huawei has launched the 2018 redesigned edition of the Huawei Watch 2 with minimal upgrades to the smartwatch they released last year. As expected, the Huawei Watch 2 (2018) comes with standalone 4G connectivity like the Apple Watch Series 3 LTE which was made available in India last month. The Huawei Watch 2 will be available for purchase for an asking price of 1,999 yuan (approx. Rs 20,800) for the 4G e-SIM edition.
The watch features a 1.2-inch OLED screen with a resolution of 390 x 390 pixels which is covered by Gorilla Glass. The device measures at 45 x 48.9 x 12.6 mm with a weight of 57 grams, all of which is still water resistant with the certified IP68 rating. Powered by the Snapdragon 2100 SoC, the Huawei Watch 2 will come with 4GB of internal storage and 768MB of RAM.
The Huawei Watch 2 comes in three variants – a 4G nano-SIM edition, a 4G e-SIM edition and a SIM-less Bluetooth-only variant, all of which run on Google Android Wear 2.0 which we've come to know as the Wear OS 2.0. All three watches come with built-in GPS and Beidou dual positioning support for precise tracking and activity monitoring in real-time.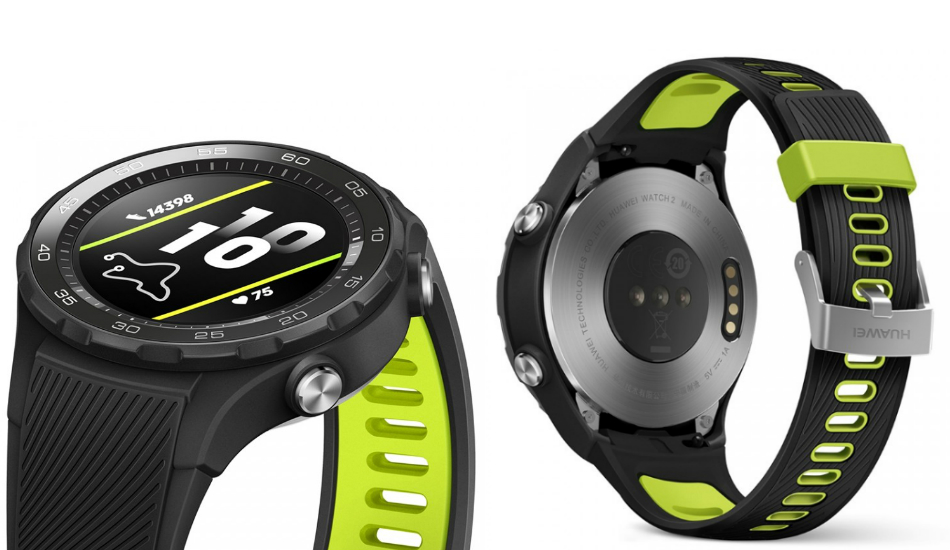 The 4G e-SIM version of the Huawei Watch 2 will be able to make calls and use data for streaming and texts within the smartwatch. The 4G nano-SIM version allows you to do the same with a nano-SIM which is what is used in a smartphone. In addition to tracking your heart rate and monitor sleep cycles, the Huawei Watch 2 will also equip a Galvanic Skin Response sensor, accelerometer, gyroscope, barometer, and compass.
The device comes with support for NFC which enables it to be used in places where they accept contact-less payment solutions. Since the watch is a Chinese exclusive, at least for now, the integrated NFC chip is only configured to work with Chinese payment systems and not Google Play. The watch is thus currently compatible with payments systems from Huawei, WeChat and Alibaba's Ali Pay.
The battery on the device lasts a day and a half on a single charge, which is easily charged within 100 minutes, although users should note that using it on 4G will render the device to only be used for less than a day.
The Huawei Watch 2 (2018) can be purchased in China for as low as 1,538 yuan (approx. Rs 16,100) for the Bluetooth-only variant while the price for the eSIM variant of the smartwatch goes as high as 1,988 yuan (approx. Rs 20,800). The watch can be bought in three colour variants Carbon Black, Vibrant Orange, and Star Grey, though it depends on the version of connectivity you choose to buy.