Xiaomi announced the Redmi Note 7 Pro with 4GB RAM in February this and later launched a 6GB RAM version of the Snapdragon 675-powered phone. Since its launch, the device has been on sale and Xiaomi haven't let go of the flash sale model that it has been popular for but The Mobile Indian has learnt that Amazon is selling the same two variants of the Redmi Note 7 Pro on its e-commerce portal but there's a catch.
The Redmi Note 7 Pro has been selling in India for a starting price of Rs 13,999 for the base model with 4GB RAM and 64GB storage. This device can only be purchased online through Mi.com but we at The Mobile Indian have now noticed that the phone can now be purchased on Amazon India. However, For the base model with 4GB RAM, Amazon is charging as much as Rs 16,999, which is Rs 3,000 more than its original pricing.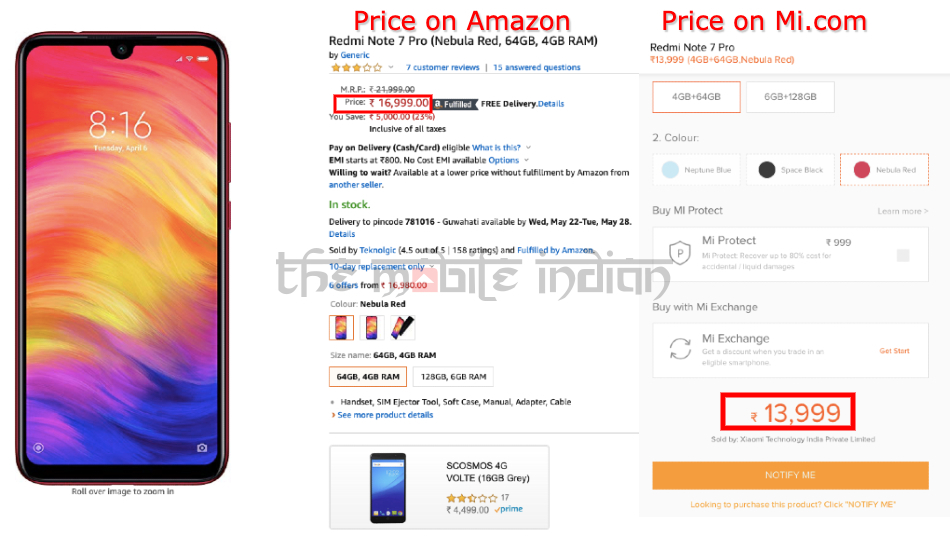 Not just that, the 6GB RAM version of the Redmi Note 7 Pro has also been listed on the Amazon India site. The same model which sells for Rs 16,999 on Mi.com during the Xiaomi flash sale can now be purchased for Rs 22,999. This means Amazon is charging a premium of Rs 6,000 for those users who are trying to avoid the flash sale and want to buy the phone right away.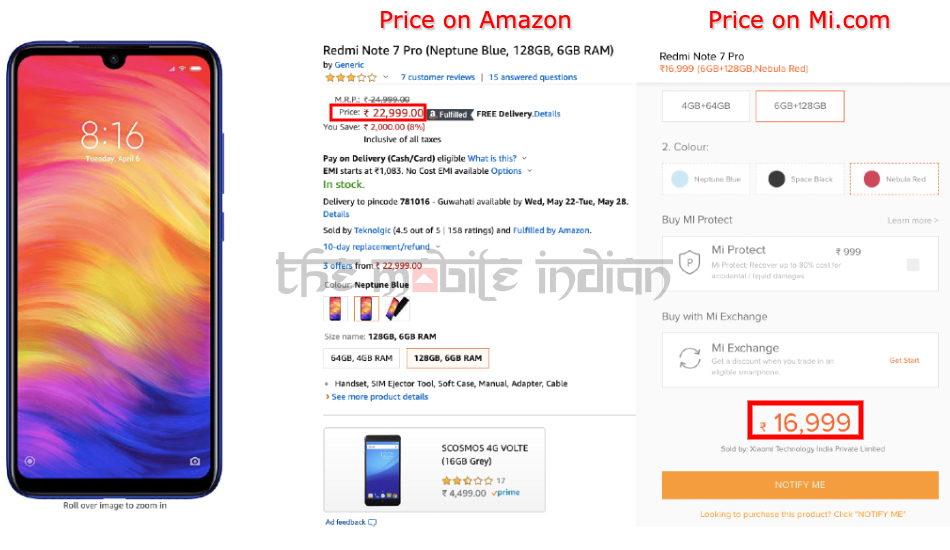 Besides overcharging on the Redmi phone, Amazon is also putting price stops on different colour variants of the Redmi Note 7 Pro. This can be explained by looking at the price of the Redmi Note 7 Pro 6GB Nebula Blue model's price and the price of the same phone in Space Black. While Amazon sells the Nebula Blue and Nebula Red versions for Rs 22,999, the Space Black model is available for Rs 1,000 lesser at Rs 21,999.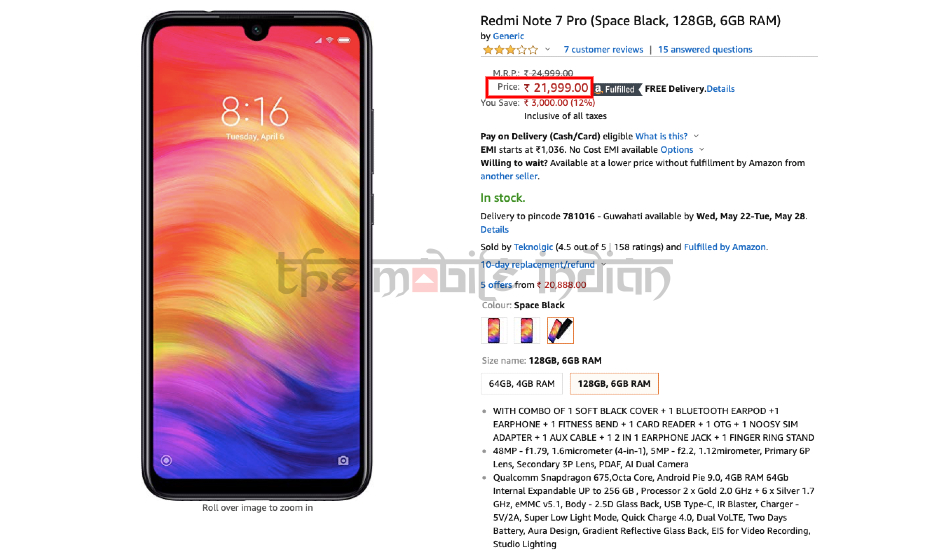 All Redmi Note 7 Pro models on Amazon India are eligible under Amazon Fulfilled, meaning the phones will be delivered for free doorstep with Amazon's tracking services as well as returns, replacements and a pay-on-delivery option. The phones come with exchange offers of up to Rs 8,000 on returning an old phone and a No cost EMI option through Amazon Pay and ICICI credit cards.
We've witnessed Xiaomi's offline stores and other retailers charge a premium over original prices of its phones, but it's a whole different game when an e-commerce store levies the same premium for making their product readily available for purchase. As Amazon continues to sell these phones with a steep price, it's not just the e-retailer that's to be blamed for hurting a lay-customer. Xiaomi is equally at fault here since it's not keeping a tab on how and where their phones are sold other than its own Mi.com platform.
At the end of the day, while Xiaomi does a reasonable job at selling good phones for cheap, it's the end-customers who suffer the ramifications of such irregular price strategies as has been validated above. Though we do understand that Xiaomi may not have much control over the above-mentioned issue but they can always pressurize their ecom partner to avoid such listing from popping up as it can hinder potential customers' experience and make them distraught.