Earlier in the day, we reported that the company's Chief product officer, Juho Sarvikas tweeted that the company is all set to unveil something awesome at the upcoming Mobile World Congress event to be held in Barcelona next month but he did not specify any date. Now the company has sent invites for the launch event and has scheduled its launch event on February 25th, just ahead of MWC 2018. The event will be held from February 26 to March 01 this year.
The invitation shows "Welcome Home" and also asks invited guests to register for a "house key" to get into the event. It also depicts a couple sitting on the floor inside a house, with sketches of a side table, overhead lamp, framed wall photo and window around them. The invite also hints at a connected home product.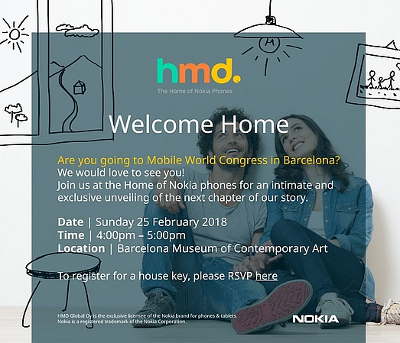 Juho Sarvikas, however, did not unveil any name of the devices getting unveiled in the MWC event. But as per rumours, the company might launch Nokia 9 and Android Oreo (Go Edition) based Nokia 1. Apart from these two phones, the company is also said to launch the Nokia 4, Nokia 7, Nokia 8 (2018) and the 4G LTE-enabled model of the Nokia 3310 feature phone.
At last year's Mobile World Congress event in February, the company unveiled the Nokia 3, 5, and 6 in addition to the 2G variant of the redesigned Nokia 3310.
As per earlier reports, Nokia 9 device is expected to feature a 5.5-inch QHD bezel-less display with a resolution of 1440×2560 pixels. Other than this, the device is expected to powered by Snapdragon 835 processor and will run on Android 8.0 Oreo operating system. Additionally, the device will come with 6/8GB RAM along with 64/128GB of storage space. The smartphone will be backed up by a 3800mAH battery with Qualcomm Quick-Charge 4 support.
On the camera front, the smartphone will sport a 12-megapixel dual Carl-Zeiss rear camera and a 12-megapixel front-facing camera for selfies. The smartphone is also said to house a fingerprint scanner and will also feature an Iris Scanner as well. Further, the Nokia 9 will have IP68 certification for water and dust resistance. As for the dimensions, the Nokia 9 is said to measure 140.9 mm in length, 72.9 mm in width and 7.5 mm in depth.
On the other hand, Nokia 1 could boast an HD resolution of 720 x 1280 pixels and it will come equipped with 1GB of RAM and 8GB of internal storage. It is said to be powered by Snapdragon 212 chipset. It is likely to be priced at 5990 Rubbles, which roughly translate to Rs 6,550. The smartphone will be a part of recently-launched Android Oreo (Go Edition) programme.