Samsung Galaxy Note 10.1 or Note N8000, unlike its 5 inch sibling, is a pure tablet with a 10.1 inch screen, but all the other goodies like SIM calling and S-Pen has been carried forward with added muscle of a quad core processor and 2 GB RAM.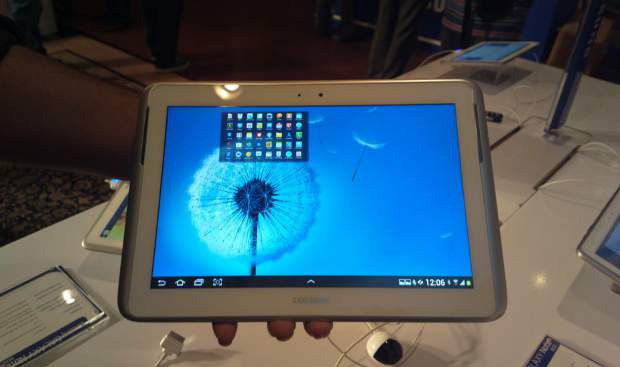 Just like the original Galaxy Note, there is a stylus called S-Pen that even recognises different pressure levels to help you draw and take handwritten note, this feature that makes it a stand out from the crowd. But that is not all.
On paper, the Note N8000 has the best specification and features but does that translate into real performance and does that make it a good value for money? Let's have a look at it to find out.
###PAGE###
Design
The tablet is slim at just 8.9 mm. The bezel around the screen is not very wide, making it quite easy to hold, and at 583 grams it's not even very heavy either.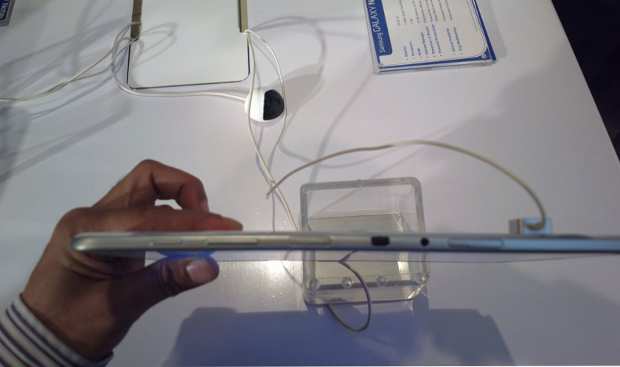 There is SIM slot and 3.5 mm jack, micro SD card slot, volume rocker, and a power button – all placed on the top of the device. There is also an infrared sensor at the top which is used to make the tablet a remote control for all the major TV brands. The Samsung proprietary port for charging, docks etc are placed at the bottom.
Overall, the tablet offers good number of ports and connectivity options and all the ports are well placed.
###PAGE###
Display
The Samsung Galaxy Note 10.1 is built around a 10.1 inch PLS LCD screen with a resolution of 1280 x 800 pixels, with pixel density of 149 ppi (pixel per inch) which is good for a tablet as it makes images and videos look crisp and sharp.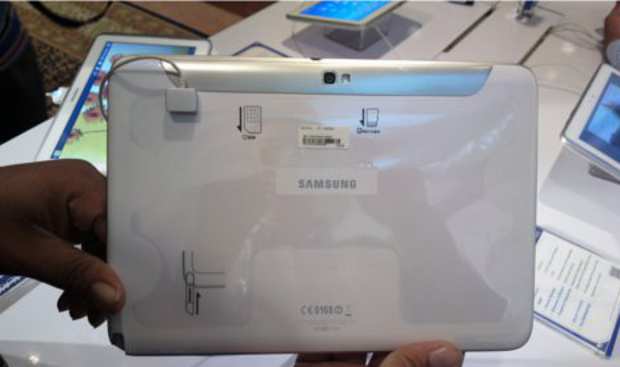 However, we found that the touch itself is not great and at several times we had to retry to get the touch registered. But that could be a problem with the device we had, as there were more than 10 applications working in the device at the time we were using it. The S-Pen however worked well.
###PAGE###
S-Pen
The S Pen first came with 5.3″ Galaxy Note, but that was a narrow stick and did not look like a pen, but this time around the S-Pen looks like a proper pen with pocket clip and push button at the top, though it doesn't retract the screen but makes the pen act as eraser.
The new S-Pen's white tip also has spring in it that prevents it from getting damaged when pressed hard. The pen infact recognises more than 1200 pressure levels and accordingly makes the line drawn thicker in thinner. If you are an artist, you can also buy separately different tips to suit or need (with different style and thickness).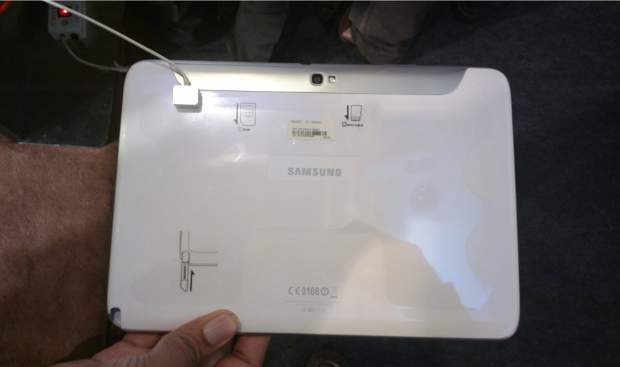 There's a button on the side of the S Pen as well, which can be used to perform certain actions too like the mouse's left or right click.
In fact the S Pen doesn't actually need to be touching the screen for the tablet to know where you're pointing it. This allows apps like Photoshop Touch to display a cursor, which helps you aim.
###PAGE###
S Pen app
The S-Pen is designed to help users write and draw, apart from that you can use it to navigate through the user interface. There is the S Memo app which is a note taking application that offers options like colours and pen styles. You can insert images from the gallery, other memos and even part of a map.
The app also recognises shapes and corrects user's mistakes while they are drawing. The handwriting recognition is also great which even recognises and calculates mathematical formulas!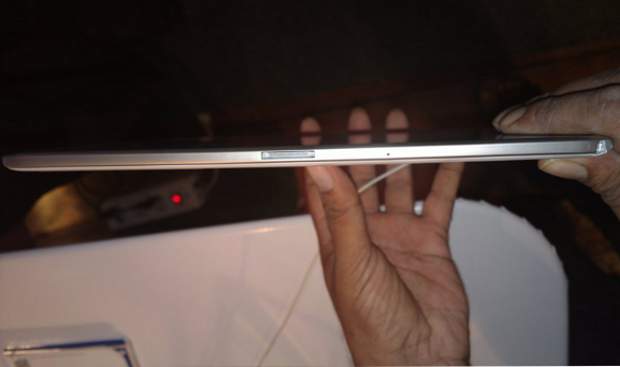 The S Planner is a custom calendar that has a lot of different views offers features like Sync with Facebook.
For image editing, the tablet even has Photoshop Touch which is quite advanced and has the potential or at tries to replace PC as the editing machines.
There are some more apps, but that we will cover when we do the detailed review.
###PAGE###
Multitasking
There are six apps that you can open and work on simultaneously, though this 'multitasking split screen' feature doesn't work with any other app than the S-Pen apps like Mail, Polaris office, gallery, Adobe Photoshop and video. But, it still is a great feature as the split screen is very easily customisable and users can move each screen to his/her choice by just dragging it.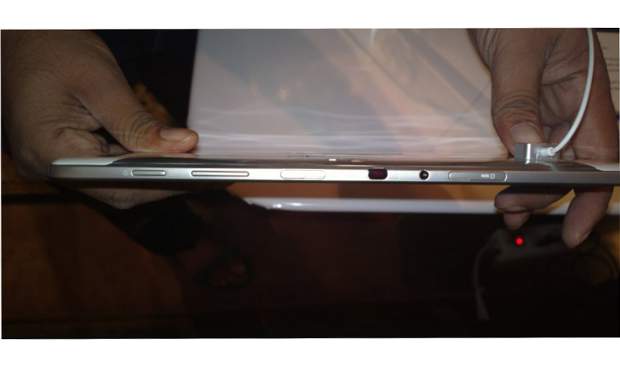 Camera
Galaxy Note 10.1's 5 megapixel autofocus camera comes with single LED flash at the back and a 1.9 megapixel front camera with 720 HD video capability. However, we did not get to test the camera.
###PAGE###
User interface
The Galaxy Note 10.1 comes with the latest Android 4.0 operating system but Samsung has failed to announce the Jelly Bean update which is due to be released very soon.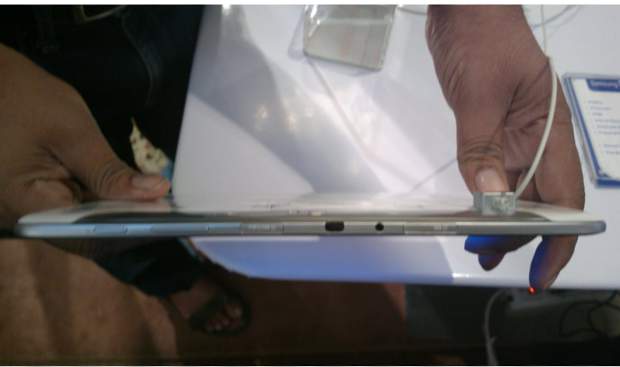 Over all Android 4.0 is easy but the Touchwiz interface is minimalistic and doesn't add much to improve certain tasks. For example if you place two fingers on the screen and tilt the tablet while viewing an image, the zoom in and out action will happen.
There is also a pinch action which allows easy rearrangement of applications on the home screen.
###PAGE###
Hardware
The tablet comes with 1.4 GHz quad core processor from Samsung coupled with 2 GB of RAM, this makes it arguably the fastest tablet out there, though we would reserve our comments on the performance till we actually test the device. There is a 7000 mAH battery in this tablet which should offer good battery back.


Samsung has also added Bluetooth 4.0 to the game which is claimed to consume a 10th of battery compared to earlier version which if true can change the way we use bluetooth (by keeping it switched of mostly).
There is also a faster WiFi with channel bonding but this should not mean much in India where 1 or 2 Mbps is the max speed though wired connections; while a b/g/n WiFi anyways offers 150 mbps speeds. The 3G support is for 21 Mbps which is also good as we do have networks capable of that speed in India. The tablet also gets both GPS and GLONASS (Russian navigation technology) and claims accuracy up to 15 meters.
###PAGE###
Competition
The competition to this tablet comes from iPad which is still the market leader worldwide. Priced at the same level as the Samsung Galaxy Note N8000, the iPad still feels crisper, though that is only the first impression.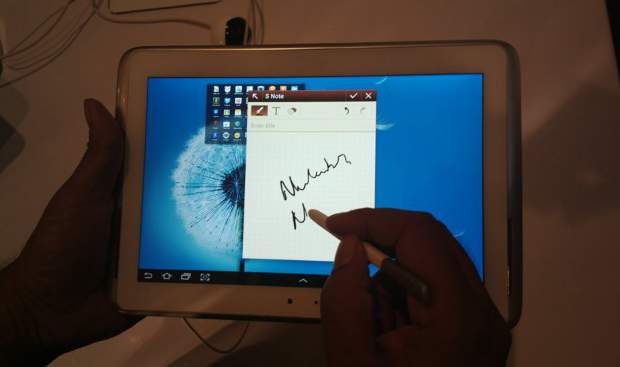 Other competition comes from tablets like Samsung Galaxy Tab 2 P5100 (Rs 32,000), Sony S Tablet (Rs 29,000) and Lenovo Ideapad K1 which are priced much lower and offer very decent hardware specification. Though none of them offer S-Pen but capacitive stylus is available in the market at three four hundred rupee and can be seen as an alternative.
Asus Transformer Prime TF201 which is costlier at Rs 45,000 also competes with added benefit of a detachable keyboard that offers incredible battery backup and matching specification but again there is no S-Pen.
We will do a detailed review of Samsung Note 800 in the coming days.