Google has started to sell Samsung Galaxy Nexus though its Google Play store (earlier called Android Market) in the USA. It has created a new 'Devices' section in the Google Play web store, though which it will only be selling the unlocked version of Nexus phones initially.
Google started making Nexus phone more than two years ago to give people a pure Google experience. The first Nexus phone called Nexus One was made by HTC, but the later two versions Nexus S and Nexus Prime has been made by Samsung.
Galaxy Nexus by Samsung runs the latest Android software, Ice Cream Sandwich, with Google mobile services, Google Play and new features like Android Beam and Google+ mobile hangouts. It also offers a 4.65 inch HD Super Amoled display.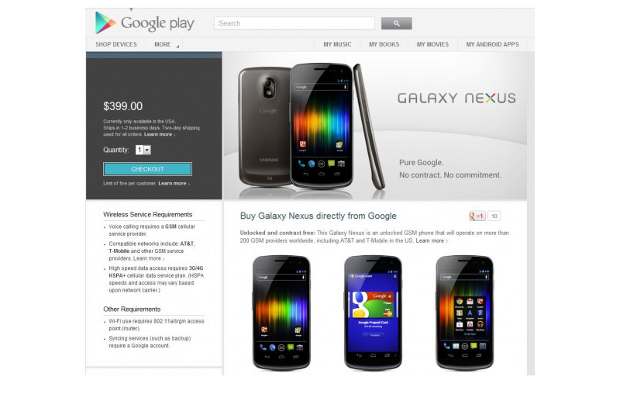 Initially made available in the USA, Galaxy Nexus costs $399 (Rs 21,000 approximately) and comes unlocked, without a carrier commitment or contract. Buyers can use it on the GSM network of their choice, including T-Mobile and AT&T. It also comes pre-installed with the Google Wallet and a $10 (Rs 500 approximately) credit to get users started with new mobile wallet.
Google has also implemented new customer support services to improve the purchasing experience on Google Play. We've taken all of this into consideration in designing devices on Google Play.
The service will be available in more countries soon, Google has informed through its official blog. We however do not expect the service to come to India anytime soon.
Google is soon expected to launch a low cost tablet, which we believe will also be sold through Google Play store.