Google has released a fresh and updated version of its Google Plus (Google+) app for the Android platform. The new Google Plus app update brings a refreshed user interface along with battery life improvements and also promises improvements in the notifications system.
Google Plus (Google+) is a social networking service by Google and is available for sharing status updates, photos, links and other stuff.
The Google Plus app for Android undergoes and overhaul with the new user interface that resembles quite a lot like the upcoming Android 4.0 Ice Cream Sandwich update. Posting new content will be more fun with the new 'posting panel' that allows adding circles, location, photos and composing message quickly.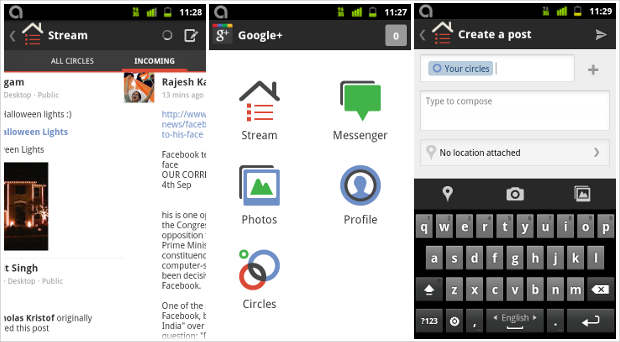 Most notable change is the re-location of the notifications column. Previously the notifications used to be pull-up drawer and now it has been placed on the top-right corner of the app as a counter. Along with that, Google has promised significant notifications improvement and also the app has been configured to conserve some battery life as well.
The Google Plus app also brings support for Google app users. Users can now log-out from the app at their convenience. The Messenger carries its name along unlike the Chords name as found out in the Android 4.0 Ice Cream Sandwich version of the Google Plus App.
Download or update the new Google Plus App for Android smartphones running Android 2.1 or higher from the Android Market.