With the release of Android 9 Pie, Google brought what it said was a helpful feature by rolling out Digital Wellbeing. The feature allowed users to keep track of the time spent on different apps, the number of notifications received and the number of times a user unlocks the lockscreen. However, the same feature has now been reported as the reason for performance issues on several Google Pixel phones.
Google Pixel owners on Reddit are now actively reporting that Digital Wellbeing has been causing stutters and lag when running in the background. When the feature is turned off, the phones are said to run smoother than normal with some saying the difference is "night and day". The issue appears to be true for all Pixel users including the original Pixel, Pixel XL, Pixel 2, Pixel 2XL, Pixel 3 and Pixel 3 XL.
A possible reason for this can be explained by saying that Digital Wellbeing maps how much time a user is spending on their phone and in each app, the notifications received and the number of the times the screen is unlocked. This kind of monitoring means there is a background process that runs continuously to monitor your phone usage.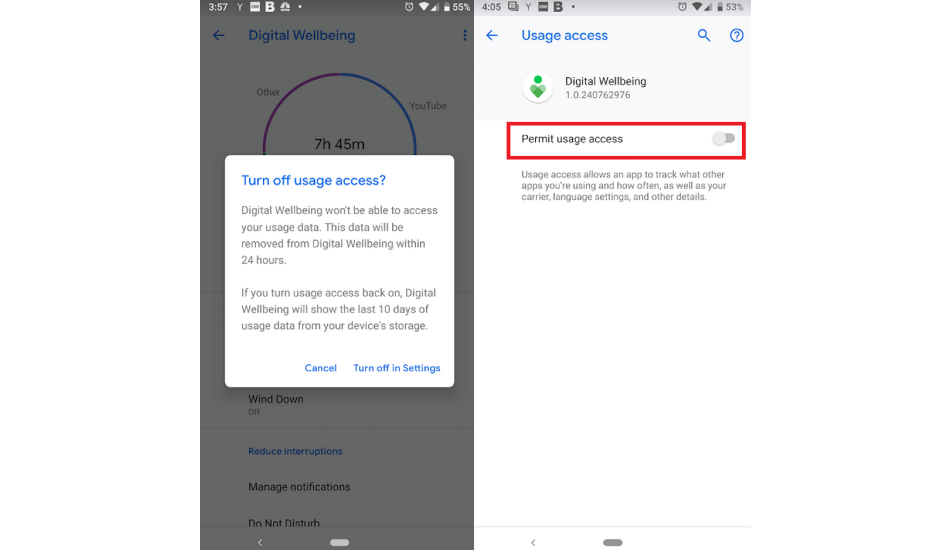 Disabling Digital Wellbeing on the Pixel is now reported to provide users with better frame rate which smoothes out the user interface when multitasking. To disable the feature, users on a Pixel phone can head over to Settings and search for "Usage Access" on the search bar. You can then tap on Digital Wellbeing and toggle "Permit Usage Access" off.
Is there a possibility that Digital Wellbeing's continuous background processing could be affecting your phone's performance? Yes. But is Google going the Apple way by intentionally making phones run slower to push its newer devices to customers? We sure hope not.