The Google Pixel 4 is expected to launch in October and we've come to know a lot about the device. The latest in the rumour mill is a set of leaked imaged which give us an idea of what the Pixel 4 looks like from the front and back sides.
Real-life images of the alleged Pixel 4 has been shared by XDA Developers revealing a phone whose design aligns well with the renders and rumours reported previously. By now, it's quite clear that the Pixel 4 will feature a square-shaped rear camera setup and the latest images only reaffirm that.
From the looks of it, the Pixel 4 is ditching the two-tone finish at the back which is now fully covered in glossy glass. The camera stack at the back employs a 12MP primary camera with phase-detect autofocus and a 16MP telephoto lens which accompany an LED flash unit.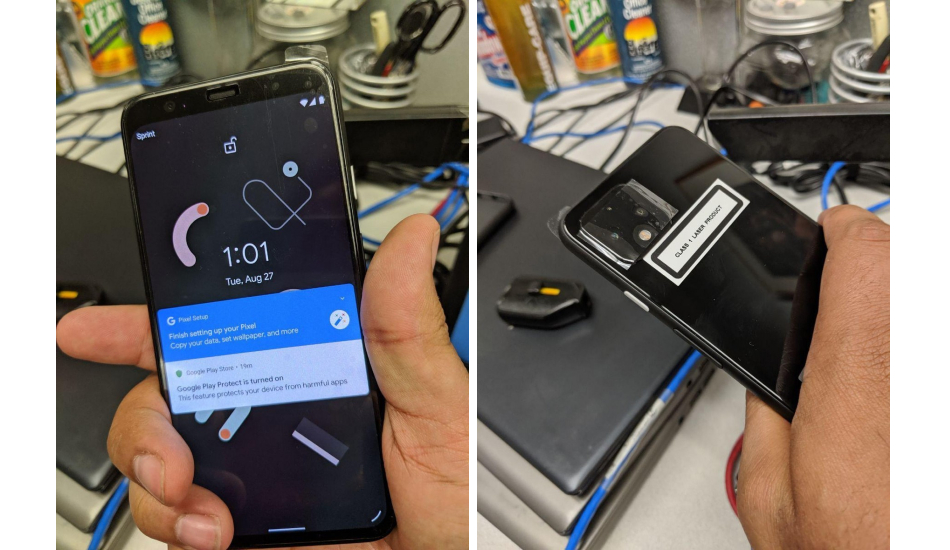 Another thing to notice is a while-accented power key on the right edge and volume rockers positioned just below it.
The highlight of the leak is the image which shows the front side of the phone. While it's unclear if this is the standard or the XL model, the Pixel 4 device comes with a thick top bezel but a relatively thinner chin at the bottom.
While the presence of a notch was something to differentiate the Pixel 3 XL from the regular Pixel 3, both the Pixel 4 phones are expected to retain the traditional top bezel. This is because the Pixel 4 series has been confirmed to feature a new Soli radar chip for motion sensing. This top bezel will thus be home to two face-unlock IR cameras, one front-facing camera, one Face unlock dot projector, one face-unlock flood illuminator, one ambient light/ proximity sensor, one audio port and Soli radar chip.
The display on the Pixel 4 also appears to be rounded and shows the lockscreen while the phone is getting set up. There appears to be a black new wallpaper made of geometrical shapes, the new navigation bar that we discussed earlier this month and Google Assistant notification on the lockscreen confirm that the phone is indeed running Android 10.