Google earlier this week officially launched its Asus-made Nexus 7 tablet in India for Rs 15,999. For the same price, you can also get the Samsung Galaxy Tab 2 (P3100). Both are from reputed brands so let's check their features to see which is the best buy for the price.
Body
Both tablets are almost the same size and weight. To be specific, the Nexus 7 comes with 198.5 x 120 x 10.45 mm (height, width, thickness) while the Samsung tablet comes in 193.7 x 122.4 x 10.5 mm dimensions. Also, while the Google tablet weighs 340 grams, Samsung Galaxy Tab 2 (P3100) weighs 345 grams.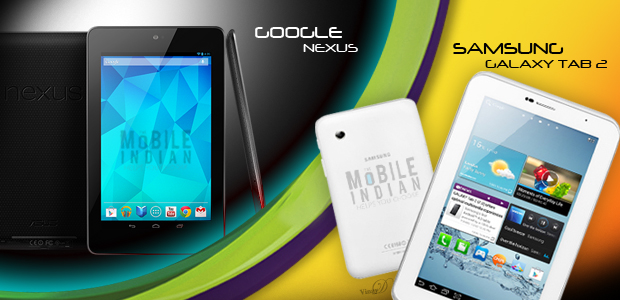 We had not yet reviewed the Nexus 7 but you can read the review of Samsung's Galaxy Tab 2 (P3100) to know more about the tablet's build. In a nutshell, at least based on what figures suggests, there is nothing much to differentiate the two.
Display
Both the tablets come with 7 inch screens but it is the screen resolution that puts the Nexus 7 on a higher footing. The Nexus 7 offers 1280 x 800 (216 ppi) resolution; while Samsung tablet comes with 1,024 x 600 pixel resolution (170 ppi). This means that pictures would look much better on the Nexus tablet.
Connectivity
Samsung Galaxy Tab 2 (P3100) comes with cellular connectivity and has a standard SIM slot. For internet connectivity, there is WiFi too. Besides, the tablet has Bluetooth 3.0 and USB 2.0 ports as well. The Nexus tablet, however, depends only on WiFi for internet connectivity. It does not have SIM calling but has Bluetooth nonetheless. Though it has NFC that does not count much in India where the technology is yet to be adopted by businesses.
Battery
There is a 4325 mAh battery in the Nexus 7, which is said to provide 10 hours of talktime, but we cannot verify that at this point of time. As we pointed out in its review, the Samsung Galaxy Tab 2 (P3100)'s 4000 mAh battery can last more than a day with normal usage.
Camera
In Google Nexus 7 there is a 1.2 megapixel camera in the front while the Samsung Galaxy Tab 2 (P3100) comes with a 3 megapixel camera in the rear and a VGA (0.3 megapixel) camera in the front.
Storage
In this section also, the Samsung tablet has an advantage as it comes with 16 GB internal storage along with a micro SD card slot for storage expandable up to 32 GB. On the other hand, the Google Nexus 7 has 16 GB internal storage of which only 13-14 GB will be available to users.
Operating system
The Asus manufactured Nexus 7 is a Google Experience Device, which means that it has Google backing. Hence, Nexus 7 will undoubtedly get future Android operating system updates (of course if its hardware is eligible for that) earlier than non-Google devices. Anyway, the Google Nexus 7 comes with the latest Android 4.2 Jelly Bean version while Samsung has just started pushing Android 4.1 Jelly Bean update for its Galaxy Tab 2 (P3100) tablet.
Processor
Samsung Galaxy Tab 2 (P3100) utilises a Texas Instruments OMAP 4430 dual core processor running at 1 GHz, which is aided by a slightly slower PowerVR SGX540 graphics processor. There is 1 GB RAM in the tablet as well. As we said in its review, the device works flawlessly for gaming and multitasking, but when it comes to HD video rendering the tablet sometimes stumbles before the hardware catches up with the video's demands.
Nexus 7, on the other hand, is far ahead of the Samsung tablet due to its Nvidia Tegra 3 quad core processor, which is aided by 1 GB RAM and ULP GeForce GPU, which claims to 'deliver outstanding game play and a visually engaging, highly responsive user interface'. Also, there are many games like The Conduit HD and Dead Trigger which are specially made for Tegra 3. So in this segment, full marks to the Nexus 7.
Conclusion
Clearly, the Google Asus Nexus 7 looks attractive from the performance point of view. The Samsung Galaxy tab is nowhere near to the Google tablet when it comes to gaming performance. Nexus 7 has a better display as well. The older Samsung tablet though seems to be a complete device and has advantages like a rear camera, more storage and SIM calling.
Both are from good brands and are officially priced at Rs 15,999. We will bring a complete review of the Google Nexus 7 as soon as possible. Meanwhile, you can check our tablet section for more tablet news and comparisons.