Google has introduced a slew of new features for its two popular apps, the Gmail and Maps at the annual developer conference, Google I/O 2018. All the new features on both the applications will be available for consumers in coming months.
Gmail
Starting with Gmail, Google has introduced a new Smart Compose feature that will help users to draft emails faster with the help of artificial intelligence. The new feature basically suggests complete sentences, while you are drafting an email. Users can still write an email like they normally do, with Smart Compose they will be offered with a suggestion as they type. If a user like a suggestion, he/she can click the tab button to use it. For example, if it's Friday it may suggest "Have a great weekend!" as a closing phrase.
"Smart Compose helps save you time by cutting back on repetitive writing while reducing the chance of spelling and grammatical errors. It can even suggest relevant contextual phrases," the company said in a blog post.
Maps
Coming to Maps, Google has introduced a slew of new features for the navigation app. To start with, the app will have new redesigned Explore tab, which will showcase things to do nearby like dining, event and activities. The tab will also show top trending lists like Foodie list to find new restaurants based on information from local experts, Google's algorithms and trusted publishers.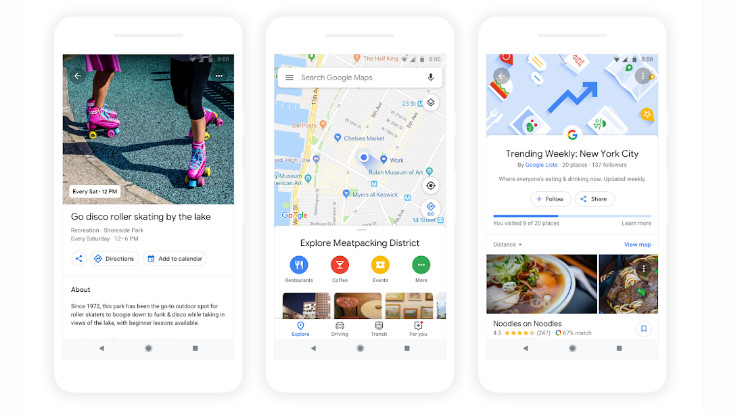 The Maps will also show match percentage of any food or drink venue a user has selected. The company says that it uses machine learning to generate this number based on few factors like the food and drink preferences users have selected on Maps, places you have been to and more. The match percentage evolves over time.
The brand has also made it easier for group planning that makes it easier to coordinate. Long press on the places one is interested in to add it to a shareable shortlists that your friends and family can add more places to and vote on. Once users have made a decision together, they can use Google Maps to book a reservation and find a ride. Then there is new 'For you' tab that allows users to choose to follow neighbourhoods and dining spots