Google has announced a plethora of products and features during its 'Google For India' event. The brand has announced the launch of new Android Oreo Go Edition, a new Google Go search app, Files Go app explorer and more during its third annual Google For India event.
Android Oreo (Go edition)
Google has officially announced its ambitious Android Oreo Go edition. The Go edition was first announced at Google I/O 2017 and it meant for low-end devices that run with 512MB to 1GB of memory. The aim is to provide the latest Android updates to the masses and it will be available as a part of Android 8.1 release tomorrow.
The latest Android Oreo (Go edition) is specially optimized for the entry-level handsets and it includes better performance along with built-in data management features and security benefits. The brand has also designed a new set of Google apps including includes Google Go, Google Assistant Go, YouTube Go, Google Maps Go, Gmail Go, Gboard, Google Play, Chrome, and the new Files Go app, which are meant to be lighter and it will smoother on the entry-level devices. Further, Google has created a new section that recommends popular apps that are tuned to run well on entry-level smartphones. The company says that the phones running Android Oreo (Go edition) will hit the shelves in early 2018.
Google Go
Google has also introduced a new app for Google Search known as Google Go. The application is available for download on Google Play Store in India and Indonesia. The app is basically one-stop for all Google services including Search, YouTube, Translate, Maps, GIFs and voice search. Users can also search different things around the web, explore new things around the web with a simple tap.
The app is less than 5MB in size and the company says that the search result in Google Go is optimized to save up to 40 percent data. The app also makes it easier to switch and see answers in another language. The brand says that it is reliably even on slow connections and smartphones with low space.
Files Go
The company has also officially announced Files Go, a smart manager app for Android devices. The app will basically allow users to manage and free up more space in different ways. It basically suggests users remove apps that are no longer in use. The app also recognizes and help remove the spams and duplicate images from the Android smartphone. Further one can also find important documents "without cumbersome and manual effort".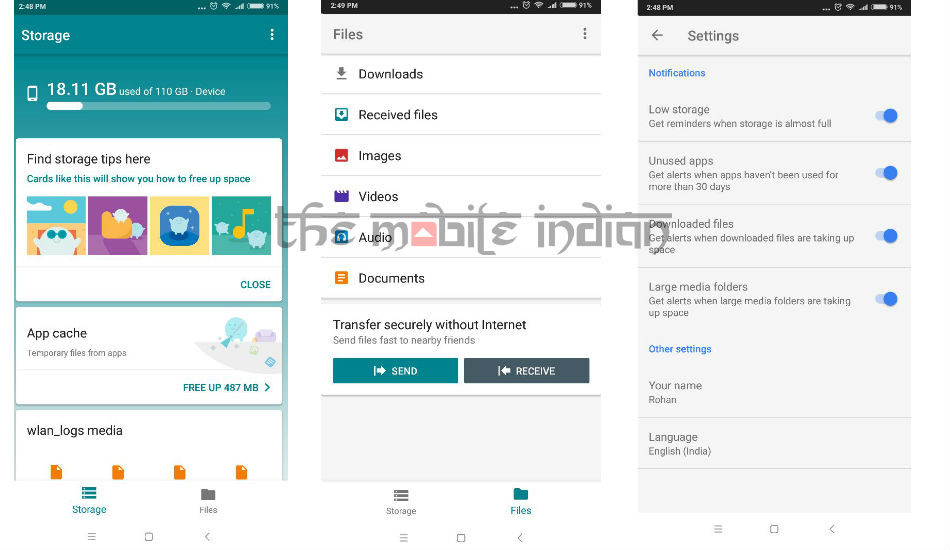 The Files Go also feature the ability to share files offline between two users. This could be done by setting up a 'fast hotspot' with just a tap of a button. The application is less than 10MB in size and there are smart media cards that shows how much storage one can free up by deleting files and apps. Files Go app is available in the Google Play Store for all phones running Android 5.0 (Lollipop) and higher.
Google Tez
Google first mobile payments app, Tez, will also get some interesting features. The app will start rolling out a customized experience to pay bills right in the app. More than 70 billers will be supported, including utilities and direct-to-home service providers. Once people pay a bill on Tez, they never have to add the billing organization again. Tez will also remind users when certain bills are due. And they can avoid paying the same bill twice, since the payment status will be automatically updated.