Splitting away from its 10-year tradition of naming Android releases after popular desserts, Google has now officially confirmed that the next version of Android will be called Android 10 instead of Android Q. The Mountain View giant is not only rebranding the way Android will be named, but it is also introducing a new logo and brand colour for Android.
The news was confirmed by Android Product Management VP, Sameer Samat who wrote in a Google blog post saying "Android Q is Android 10". The post read that while naming previous releasing of Android with names of desserts and sweet treats had become a fun tradition, the names "weren't always understood by everyone in the global community".
Google explained that it is doing so because new Android users who were unfamiliar with the way Android was named were finding it difficult to understand if their phone is running the latest software. The company also said that naming an Android version with its alphabets was confusing since several letters are not distinguishable when spoken in different languages (like L and R).
The company thus made it clear that the next release of Android will simply use the version number and be called Android 10 since over 2.5 billion active devices ran on some version of Android.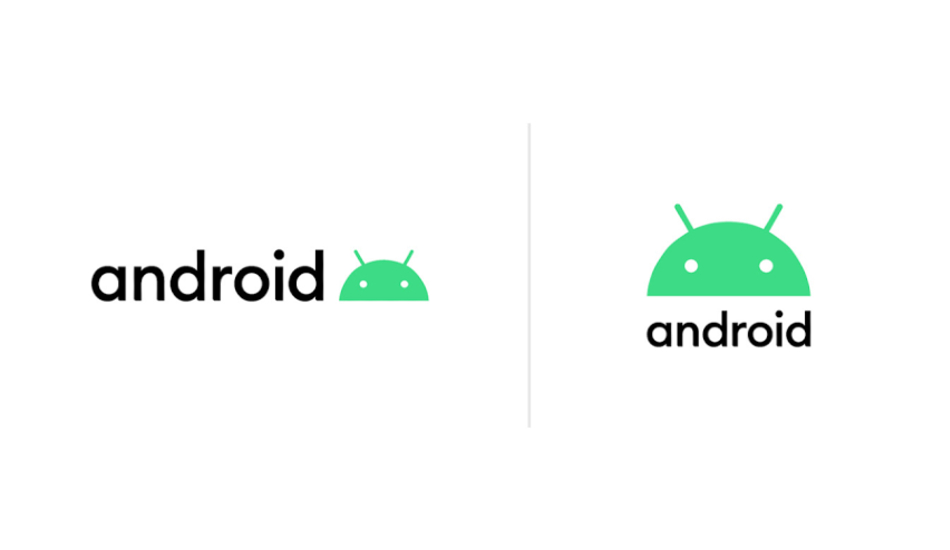 Google also announced that it is updating the Android logo and colour with "a more modern, accessible look". This is the first change to the logo in five years and Google says its design gets inspiration from Android's most recognisable character – the Android robot. The new logo now has the Android robot alongside the branding text which now changes to black from green.
As a follow-up on the development, HMD Global has announced that Android 10 will come to Nokia smartphones starting from the fourth quarter of this year. What this means is, Nokia phones under the Android One programme that were released after the Q4 2017 will get the Android 10 update. The list of devices that will eventually get an update to Android 10 will include the Nokia 1,Nokia 1 Plus,Nokia 2.1,Nokia 2.2,Nokia 3.1,Nokia 3.1 Plus,Nokia 3.2,Nokia 4.2,Nokia 5.1,Nokia 5.1 Plus,Nokia 6.1,Nokia 6.1 Plus,Nokia 7 Plus,Nokia 7.1,Nokia 8 Sirocco,Nokia 8.1 andNokia 9 PureView.
HMD has also announced the respective timelines for the rollout of the Android 10 update on the listed devices. The first three Nokia smartphones to get Android 10 update will be the Nokia 9 PureView, Nokia 8.1 and Nokia 7.1 which will get the update in Q4 2019.
Sometime between the end of 2019 and start of 2020, HMD will start rolling out Android 10 to Nokia 6.1, Nokia 6.1 Plus and Nokia 7 Plus. While the start of Q1 2020 will see the Nokia 2.2, Nokia 3.1 Plus, Nokia 3.2 and Nokia 4.2 get the update, HMD will push the same to the Nokia 5.1 Plus, Nokia 1 Plus and Nokia 8 Sirocco before March 2020. In Q2 2020, the Nokia 2.1, Nokia 3.1, Nokia 5.1 and Nokia 1 will be seeded with Android 10. The company says exact dates of the rollout will vary but you can have a clear look at the timeline through the representational image down below.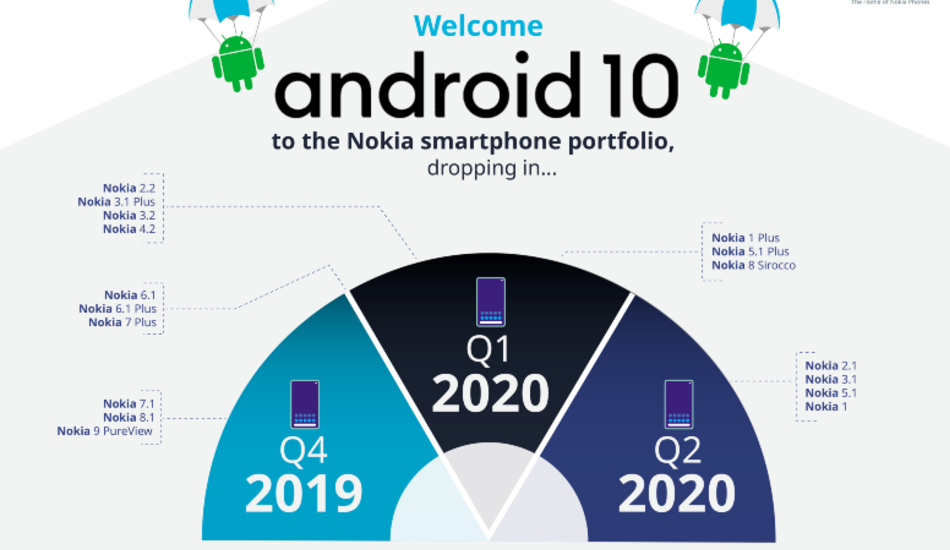 Speaking about the announcement, HMD Global Chief Product Officer, Juho Sarvikas said "With a proven track record in delivering software updates fast, Nokia smartphones were the first whole portfolio to benefit from a 2-letter upgrade from Android Nougat to Android Oreo and then Android Pie. We were the fastest manufacturer to upgrade from Android Oreo to Android Pie across the range. And with today's rollout plan we look set to do it even faster for Android Pie to Android 10 upgrades. We are the only manufacturer 100% committed to having the latest Android across the entire portfolio. Thank you to everyone in our Beta programmes who help to build on our unique Android promise and ensure your Nokia phone experience just keeps getting better".