Days after adding Smart Compose and email scheduling to its Gmail service, Google is now updating its Google Assistant on Android phones with larger cards for better visual representations of your queries and new in-app tools.
The news comes from Google's official blog post which revealed the new features to the Google Assistant with pictures depicting changes in the way answers are displayed to users. For example, searching for "cute cats" inside the Assistant will now yield you thumbnails showing different breeds of cats from top pages, rather than just displaying a list of links with the keyword cute cats in it.
The update also adds a little more graphics detail to queries with larger cards with relevant information. This comes as a move to minimise the number of questions that you might need to follow up with for a single query which will need you to speak or enter more parameters when asking a question. Google has given an example which shows the result when asking for Google's stock. Upon asking for that, the Assistant will give you a graphic detail of the stock price of the company instead of just showing the current value and daily change of Google's stock.
Google Assistant has also revised the way events are shown inside the interface. When showing events at a place before this update, the Assistant showed a list of events for the course of a week. Now, the Assistant displays a list of events with tabs for "today", "tomorrow", "this week", "this weekend" and more. Additionally, the events are also paired with preview mages and a feature to bookmark a particular event right within the Assistant.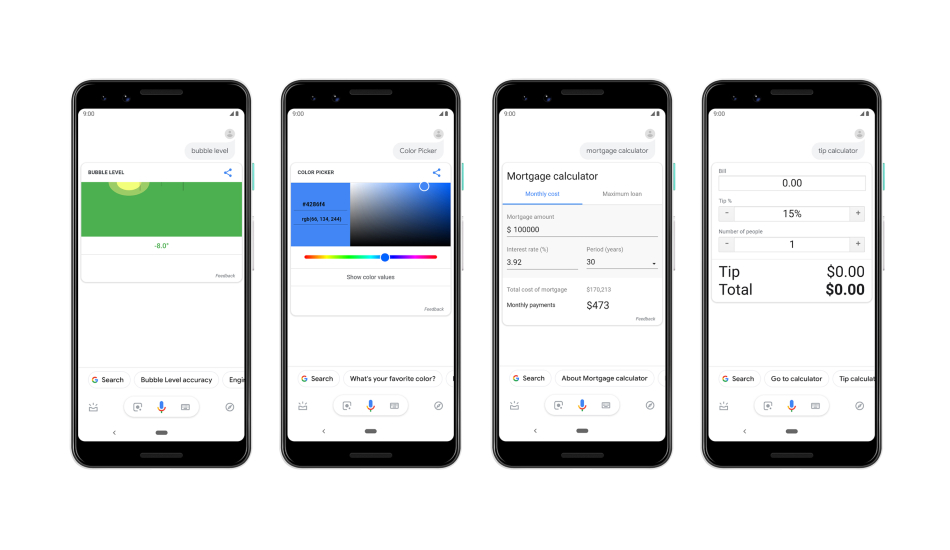 Lastly, Google now offers some new tools and calculators inside the Assistant which includes a tip calculator, mortgage calculator, bubble level and a colour picker.
The new features will be available starting today in Google Assistant on Android phones.