Within 24 hours of launch into the iTunes store, the Google+ App has made it to the top of the chart for free apps. The start was buggy for the app, and it had to get an update to get things moving again.
The early stage bugs show in the user ratings as well, as some users give 5 star rating to the app while some gave it one star. About 3,000 users have posted their reviews of Google+ app for iPhone on the iTunes so far.
Facebook, the main rival of Google+, is the benchmark by which Google+ has to compare its performance. Currently, Facebook stands at the top of the list of most downloaded apps on iTunes, and Google+ definitely would be looking to reach there.
In Google+, once the users sign in, they get to see the hub, which has six sections including an empty space. The six sections are – Stream, Huddle, Photos, Profile, Circles, and Notifications.
Once the users enter the stream section, a gesture image explains to them how they can navigate between different streams. The Incoming stream is messages from those people, whom the users didn't add in their circles.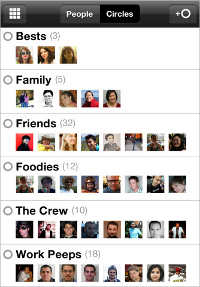 Depending on the frame of mind, this stream may be either annoying or welcome. Huddle, once started, is like any other chat interface.
Most of the Google+ features of iPhone app expectedly resemble the online version of the site, though Android version of the app has more features compared to the iOS version. The Android version has the automatic photo upload feature which is missing in the later. On Android, the Google+ app download figures is said to be within 1 million to 5 million range.
The Google+ iPhone app only works with iOS 3.1 or higher version. The app is currently not available either for iPad or iPod Touch devices. The app is intuitive and clean, there is a slight problem &#151 anyone can download the app, but only those who have invitations for Google+ would be able to use the app.