Google finally announced the much awaited Android 4.0 Ice Cream Sandwich update for the Android smartphone and tablets in Hong Kong, China. However it is surprising that this update won't be available right away but instead would roll out once Galaxy Nexus smartphone starts selling.
The burning question for every Android smartphone owner is &#151 Will their Android 2.3.x Gingerbread running smartphone support the new Ice Cream Sandwich? Google stated that theoretically any smartphone running Gingerbread should ideally run Ice Cream Sandwich. However, thorough testing will reveal the limitations, if any.
Google has combined the best features from its Gingerbread for smartphones and Honeycomb for tablets to give a fresh look with the Android 4.0 Ice Cream Sandwich. Chronologically numbered as the Android 4.0, the new ICS update brings fresh look and feel in its revamped user interface. Let's have a look at someone of the most significant and novel features in the Android 4.0 Ice Cream Sandwich.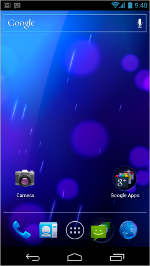 Resizable widgets and homescreen folders
Android smartphone owners who love widgets for every possible app installed have something to cheer about. With the new Android 4.0 ICS, the new resizable widgets will lure several such users to set up widgets for mails, counters, feeds, updates and lot more.
Besides being easily resizable, Google developers have engineered these widgets such as that one can scroll within the widgets. That means – resizable and scroll-able widgets. Also, creating folders to add favorite apps, contacts or bookmarks on the homescreen would certainly be very easy and simple. Users have to simply drag and drop one icon over other to create a group or folder.
By holding on the folder, one can give it a name like Productivity Apps, Gaming, Social, etc. Users would be able to group their favorite applications and shortcuts more logically.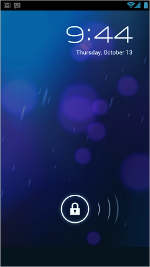 Notifications, lockscreen and launcher revisited
In Android 4.0 ICS users would be able to make the best of lockscreen since the ICS has made notifications tray accessible even when the phone is in locked mode.
Also the lockscreen will have a shortcut to camera app. Notifications tray has gone through a revamp and will have five different toggle switches at the top. Under that, there would be music player controls that will act as shortcut to manage the music playback. Besides that, the notifications tray will let the user remove the notifications individually by simple finger swipes across the screen.
Launcher (bottom bar) is also customizable as users can now pin their favorite bunch of contacts or short cuts on it.
Screenshots, camera improvements and photo editing
As reported earlier by The Mobile indian, all Android smartphones will get native screenshot capturing support with the ICS update. Users will have to press the power and the volume down button to take the screenshot of the screen whenever they want.
The camera app has been pumped with refreshing and versatile features like continuous autofocus, zero shutter lag exposure and reduced shot-to-shot speed for capturing clearer and crisp images. New single-motion camera mode allows capturing images starting off with exposure and then turning the camera to accommodate better larger scenery.
Photo gallery app now sports a spruced up interface that has photos arranged on the basis of location as well as person and also a nifty photo editor to tweak all the images in the albums.
Improved input functions
Android 4.0 has neat looking keyboard with improved error correction and more accurate word suggestion. The new set of dictionaries offers more accurate heuristics for handling common typing errors. Built-in spell checker underlines the probably mis-spelt words and multiple spelling suggestions to choose the correct one. Even the copy-paste functions have been tweaked so that users can now cut and move around entire word.
With the improved speech to text engine, users can now make the best use of the phone's microphone to dictate the speech that gets transformed in to text. One can speak out entire emails and even text messages using the voice input function.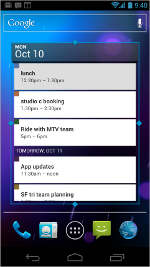 Revamped calendar and Gmail
Along with over all look and feel improvement, Google engineers have also made the native Calendar app more robust. One can now pinch and zoom within the calendar app and also allow other applications to integrate with the same app for managing events and reminders.
Google has revamped Gmail app for Android massively by making it easier to use and interact with. The nested subfolders are supported along with respective sync rules and along come the integrated menu for managing different accounts and recently created labels.
Responding to emails will be easier and quicker for users as they won't have to face change of screens while choosing between reply all or forward. The auto-completion of recipients is also a welcome change as users can tap on the recipient's name and choose any email address, just incase that person has more than one email ID.
Better web browser and data usage Aanalysis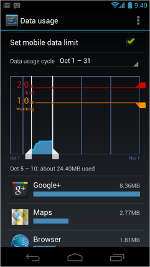 While we were waiting to see Chrome browser to be ported to Android, at this moment we will have to make do with syncing just the bookmarks from the Chrome web browser. The new ICS update brings a native browser that is capable of opening up to 16 tabs and in that too user can choose to load the full desktop version of the webpage or mobile version. Lengthy pages can be saved for reading offline and the mobile web browser is said to incorporate an improved rendering engine.
At the month end while you wonder on heavy mobile bill, pay a visit to the new data usage analytics feature that brings controls to manage the network data usage. Set the mobile usage limit that will raise the flag when the consumption hits the pre-determined limits. Also users can manage background data consumption by narrowing down to respective apps. The mobile network data usage is represented using colorful and interactive charts.
Android Beam
Google has named the software side of the Near Field Communication enabling feature as Android Beam. Basically, two NFC-capable devices are to be tapped back to back for enabling exchange of digital data such as &#151 maps, links, music, photos, videos, etc. Even apps can be shared in a way that the recipient phone is taken directly to the Market link of the respective app.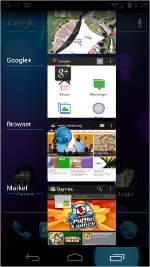 Facelock and People App
Along with the unlock pattern feature, Google has added new face recognition based security feature for smartphone owners to keep their device secured. This feature makes use of the front facing camera to detect the face of the phone owner and only after valid recognition the lockscreen gets unlocked.
Finally a new People app will arrive that will have a bigger image of the contacts along with details and all will be placed as of one is watching a photo gallery.
Andy Rubin, senior vice president for Android at Google stated that Android 4.0 Ice Cream Sandwich will be rolled out once Galaxy Nexus is released. Google also confirmed that the Android 4.0 Ice Cream Sandwich update will also be made available for the Nexus S smartphone.
Roll out of Ice Cream Sandwich update will take months and by the time you receive it, Google would be showing the next major Android update.