G'Five Mobile has launched three new handsets with new compression technology breakthrough and games. The new G'Five Movie King E680, E650 and E620 models come with a 4GB data card preloaded with 20 full-length movies, 20 ringtones and 5 FTV videos.
As per the regional preferences, the content has been customised into four different movie packs – North, South, East and West. Each pack is a combination of movies from different languages in the region. For example, the North pack includes Hindi, Punjabi and Bhojpuri movies (blockbuster hits like Singh is King, Rock On, Pardes, Taal, Wakeup Sid, Bhool Bhulaiya etc.)
G'Five G20, the new gaming wonder from the brand, comes preloaded with 1,000 video games from the most popular family of 16-bit games like Mario, Contra, Tetris, Goonies, Battle City etc. To further enhance customer's gaming experience, the handset comes bundled with a gaming console which is akin to the remote control of other gaming devices.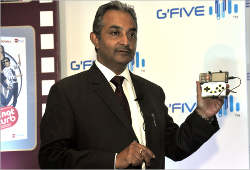 Arshit Pathak, managing director, Kingtech Electronics India, a group Company of G'five International, said, "In the last 6 months we have launched several innovative models like the projector phone. During Cricket World Cup, we launched a complete range of TV phones, so that our consumers can enjoy their Cricket telecast anywhere. We also launched a 2G phone with video chat, hitherto a feature available only on 3G phones and service. The latest in our series of innovation for the mass market are the Movie King range and the gaming phone targeted at those desiring non-stop entertainment on the go."
The G'Five Movie King E680 is a dual-SIM dual standby handset which comes with a 5.5 cm (2.2″) QVGA display and multimedia features like dual camera, built-in Yamaha amplifier for surround-sound effect, FM radio player, music player, video player, a 3.5 mm universal audio jack besides short range wireless connectivity.
The G'Five Movie King E620 has all of this coupled with analog TV feature as well. While the G'Five Movie King E650 is a stylish flip phone with touch screen, and a bigger 6 cm (2.4″) QVGA display.
The G'Five G20 gaming phone is also a dual-SIM dual standby phone loaded with multiple features. It has a gaming simulator with 1000 games, 6 cm (2.4″) QVGA display, dual memory card slot, analog TV, built-in Yamaha amplifier, universal 3.5 mm audio jack, music player and audio player besides short range wireless connectivity.