Getit, which is one of the broadest local information search service, has launched an application for iPhone users in India.
This new Application makes the searching for your things like restaurant or multiplex easy and instant by providing access to search information anytime and anywhere on iPhone.
The app can be directly downloaded free from either the iTunes store or from getit.in.
Information available on the app includes restaurant, air conditioner mechanic, plumber, real-estate agent, taxi-cab, educational institute, cinema hall etc.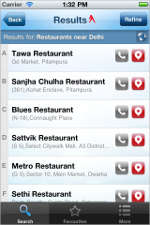 Getit iPhone app has also been featured in the new and noteworthy list in the navigation section on iTunes store.
Some of the features of the app include auto detection of current location using GPS, quick links to top/popular categories, refines search based on attributes and location. It also shows Interactive map with directions, calls any business with a single click/tap, shares businesses via email & SMS and a lot more.
Sidharth Gupta, chief operating officier, Getit Infoservices said, " We wanted to be the pioneers to provide free local search to the exploding smartphone market in India and the launch of our iphone App is a giant step in that direction. We will continue to innovate and offer free upgrades to suit the changing needs of our discerning iPhone users. Please also watch out for our future apps launches on the other smart phones.