Gchat, a dedicated Google Talk client, has made its way to the Windows Marketplace. In the past, there have been a handful of software like IM+ that offered compatibility for the Gtalk service but they often missed out on the bigger features of the Gtalk service.
Some of the best features for the application include Push notifications for email and IM. Besides, the 'Off-the-record' conversation feature can be accessed through the use of this application which was missing from all the other compatible apps. Also, users can choose or 'pin up' selected contacts on the home screen, and the application gives independent IM and mail notification from those contacts as well.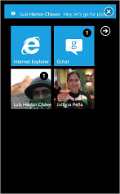 The interface of the application has been kept as simple as possible with the much appreciated bubble type conversation visibility for the main IM window.
Gchat is a free to use IM application for Windows Phone devices but this is developed by an independent developer and in no way this is related to or endorsed by Google. This application as of now is just compatible with the Windows Mango running phones so users can download this application directly from the Marketplace on Zune or can also follow this link.